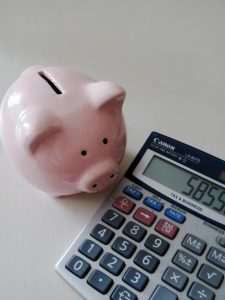 You've done your research. You have picked the stocks and markets in which you want to place your money. You've even brushed up on the stock market lingo, but you don't have thousands of dollars to drop. Good news, you don't have to have thousands to
invest
.
Making your first investment is an exciting and terrifying task. However, many people are under the impression that, in order to invest, you need to have a lot of money. That is just not the case. In fact, many successful investors have started small and worked their way up. Here are a few ways to start your investing journey small:
Get a plan through your employer
Placing money into a mutual fund or 401(k) through your employer is a no-brainer. There is no minimum required investment for many of these plans. You will simply have it automatically placed into the 401(k) from your paycheck. Many employers also offer a matching contribution as well. Usually you have to stay with the company a certain number of years or have put a certain amount in the 401(k) to have the company match your contribution, however, it is definitely worth it. If you put $1,000 in, the company will put $1,000 in as well, giving you $2,000. Some companies offer a percentage match or up to a dollar amount as well (capping at $5,000, for instance).
Schwab Index Funds
Investing firm Charles Schwab offers five conventional stock-index mutual funds and three bond-index funds. Each of these has a $100 minimum. It has U.S. stock market fund options, international-index fund and bond-market funds. Any or all of the three would make for great portfolio holdings and none of them require a huge amount of money to get started.
Actively managed fund
Some investing firms will waive their regular minimum if you agree to making a recurring deposit. For instance, if you don't have a lot of money to invest now (only $100), you would agree to have $50 withdrawn from your account monthly for a specific period of time.
Online Brokerages
Online brokerages have made it easy for many people to start investing. With as little as $500, you can open an account. Some online brokerages don't require any minimum deposit. With these brokerage accounts, there are ways to pay no commission and buy/sell investments for very little money (about $10 is standard).
Acorns Investing
If you have never tried it, Acorns is an app through Intuit. It allows you to create a portfolio based on your investment goals. You can set up recurring deposits or you can start with a small amount (as little as $5). Acorns also allows for a "Round Up" investment. This means that every time you swipe your credit or debit card, the app rounds up and places the change in your investments account.
Any account with only $100 or $1,000 won't do you much good. If you want to gather a decent amount of cash, you will have to save as much money as you can. When you have extra money, place it towards your investments.
Do you have any additional funds or investments that don't require a high minimum? Let us know! We'd love to hear from you. 
Photo: Flickr: 401(K) 2012