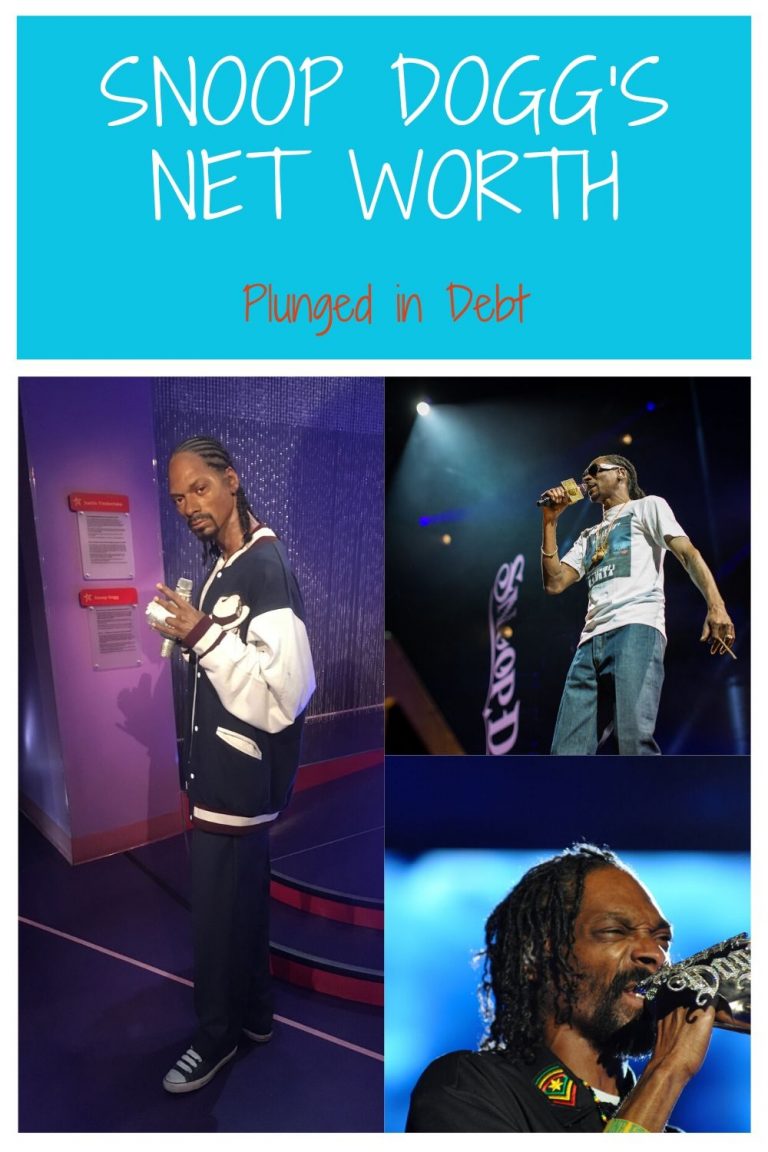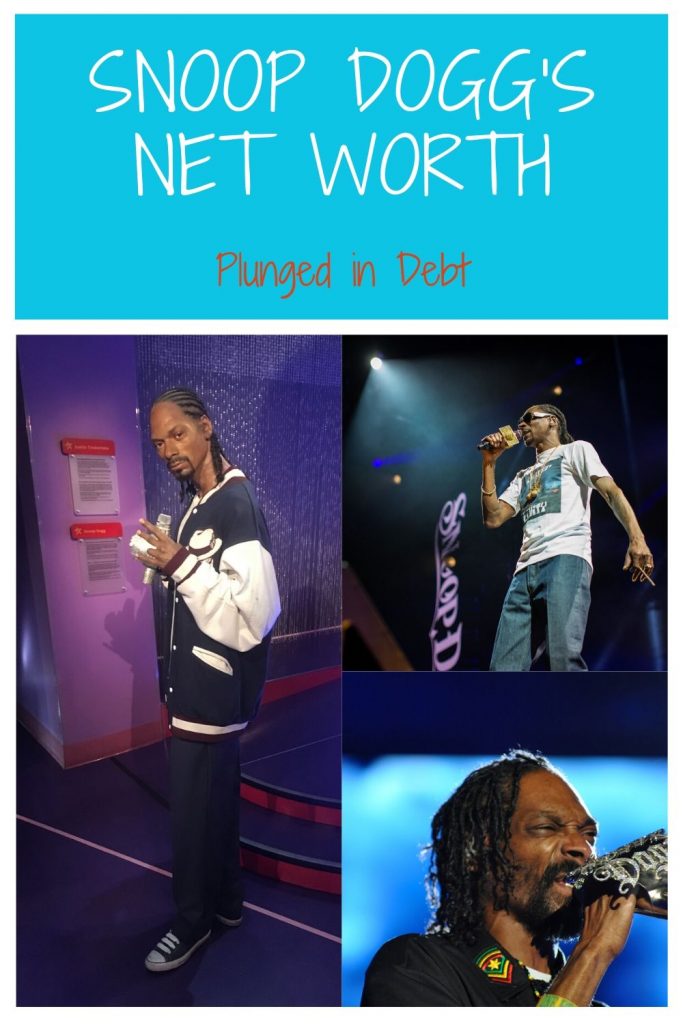 This year, marijuana enthusiasts have been excited about it being "4/20" all month long. Even though the coronavirus outbreak may have had some impact on people's plans, they've still blazed up. There are many entertainment icons who have made their support for Mary Jane public, including numerous hip-hop artists. One of the biggest stars who has always supported legalization is Snoop Dogg. He's been in the game for decades though, so what is Snoop Dogg's net worth (and how much is he spending on pot)?
About Snoop Dogg
Snoop Dogg was born Calvin Cordozar Broadus Jr. on October 20, 1971, in Long Beach, California. His father left the family only three months after he was born, so Snoop was named after his stepfather. During his childhood, his parents nicknamed him "Snoopy" because of his love for the Peanuts character.
When he was young, Snoop began singing and playing piano at Golgotha Trinity Baptist Church. To help his family make ends meet, Calvin sold candy, delivered papers, and bagged groceries at the supermarket. Once he reached sixth grade, he started rapping.
Despite his mother's best efforts, in his teenage years, Calvin turned to gang banging and living in the streets. He was a member of the Rollin 20s Crips gang and frequently ran in with the law. After he graduated high school, he was in and out of jail for about three years.
Music Career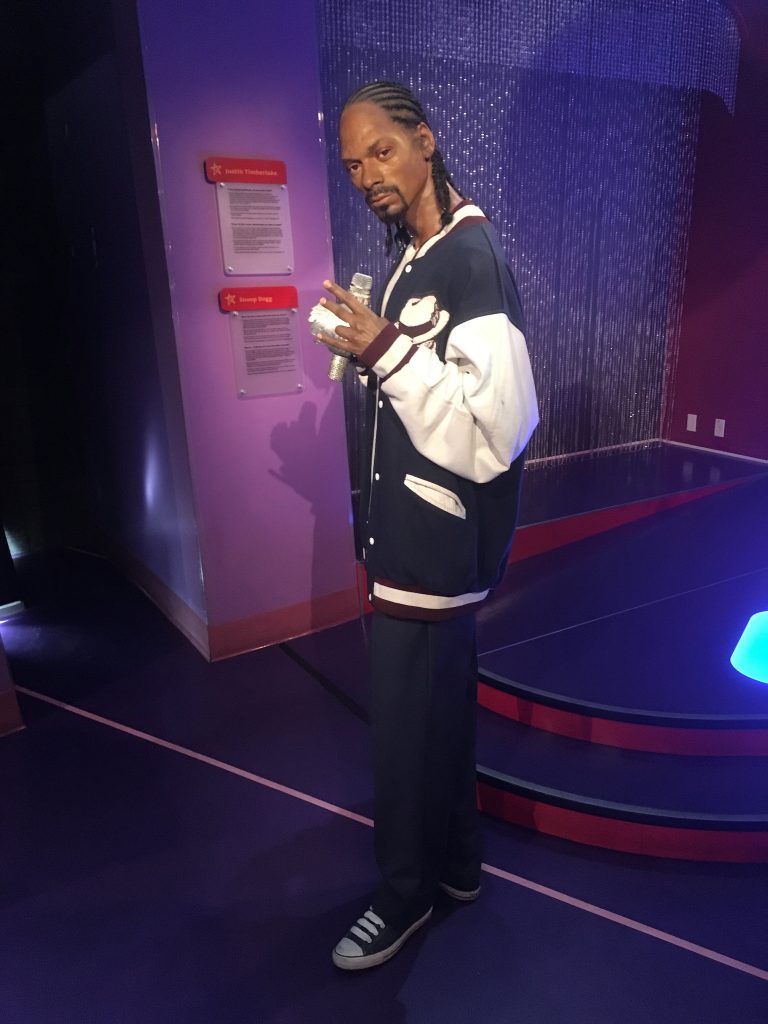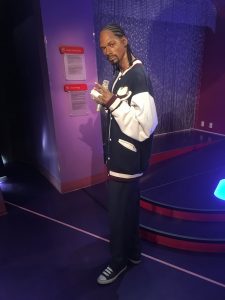 After getting out of jail, a homemade mixtape featuring Snoop landed in Dr. Dre's hands. Dre, who is known for producing new rappers, saw the potential with Snoop. Eventually, he began recording with Death Row Records. He stayed with Death Row until 1998 and recorded some of his greatest hits with the label, including Gin and Juice. 
In 1998, Snoop Dogg left Death Row to begin recording with Master P's No Limit Records. While with No Limit, Snoop recorded some of his most well-known singles and albums. By 2007, he was offered an executive position at Priority Records, where he recorded Malice and Wonderland. 
Since the early 90s, Snoop Dogg has had a profound impact on the hip-hop community. It has led him to reach millions of people with his music and collaborate with other talented artists.
Awards
Throughout his career, Snoop has been nominated for 17 Grammy awards. While he has not won a Grammy, he has brought home 27 awards in total, including multiple American Music Awards and BET Awards. In 2018, he got his very own star on the Hollywood Walk of Fame.
So, what has this success done for Snoop's wealth?
Snoop Dogg's Net Worth: $143 Million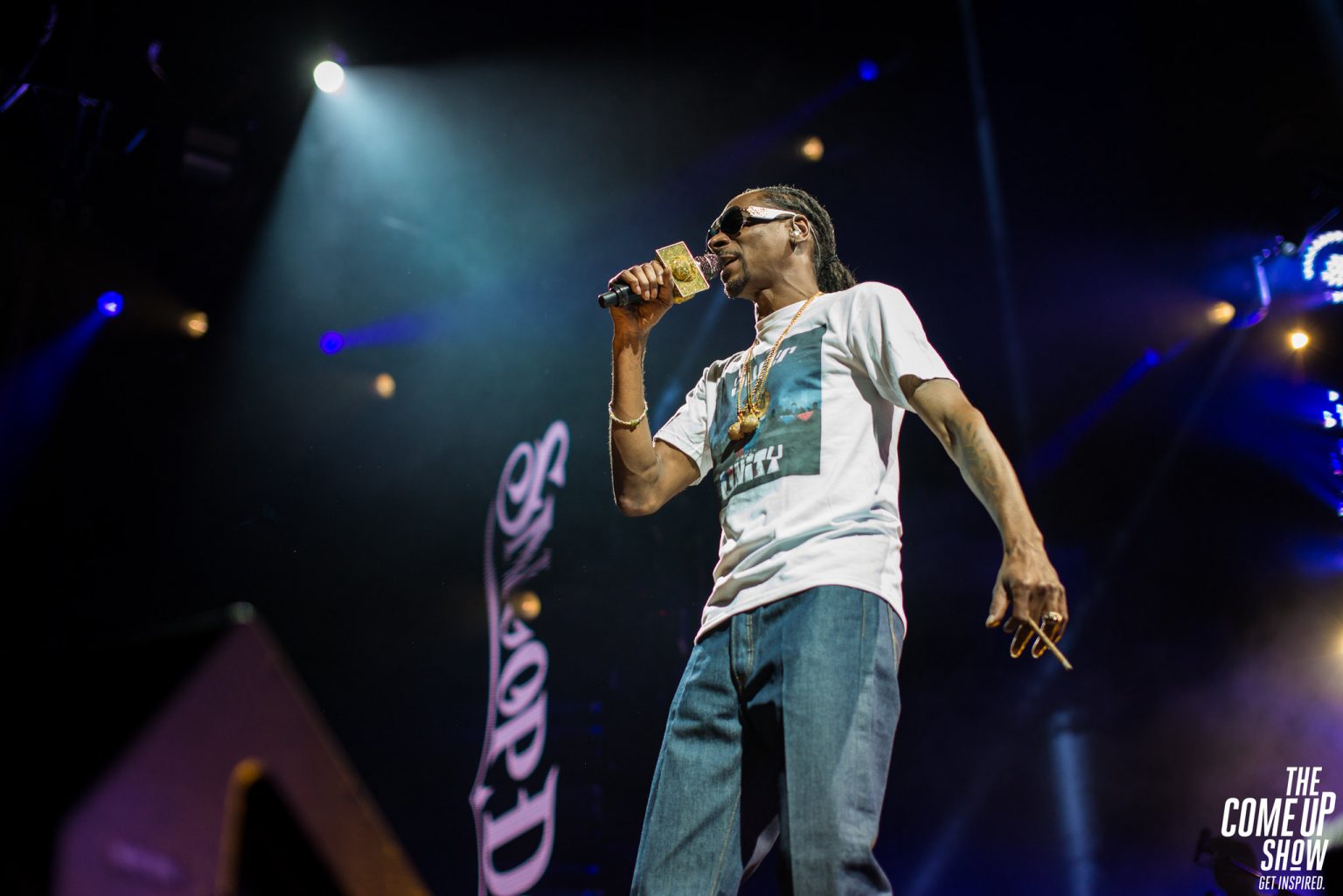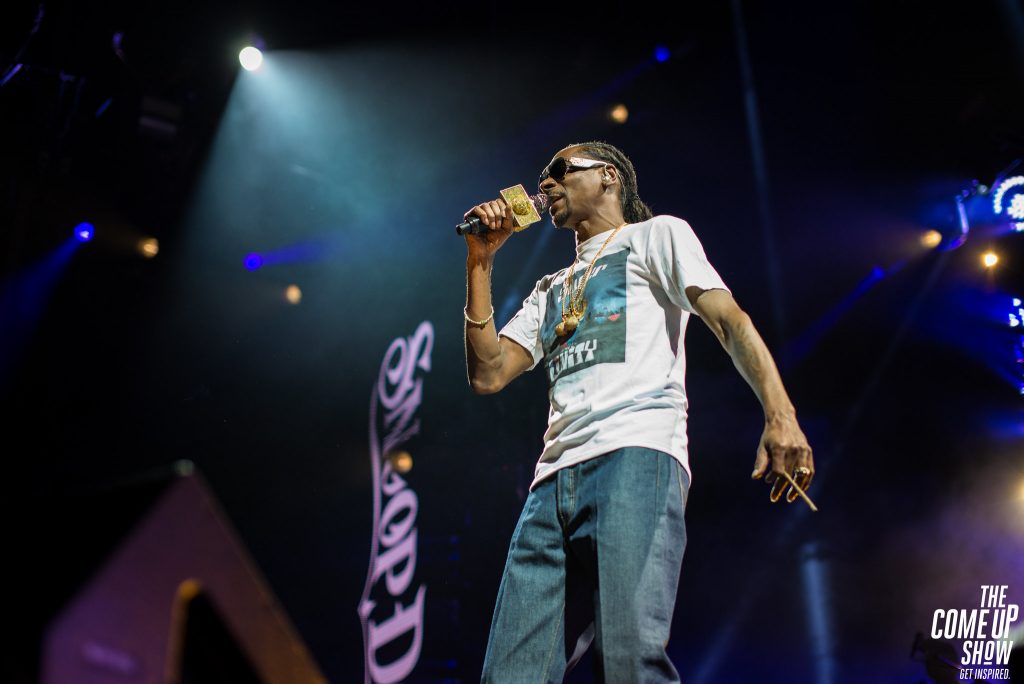 According to The Richest, Snoop Dogg's net worth is about $143 million. Every year since 1993, he has made more than $2 million (except for 2006) and his highest-earning year was 2007 with total earnings of $17 million. In the past decade, his annual earnings haven't dropped below $9 million.
The bulk of Snoop's fortune has been gained through his own rap career and other performance work. For his best-selling works, he earned more than $3 million in album sales alone. He has raked in even more millions when he's on tour.
In addition to his music career, Snoop has also been featured in a number of films. Not to mention, he has also had his likeness used for a long list of things, including t-shirts, marijuana merchandise, and other items.
Other Businesses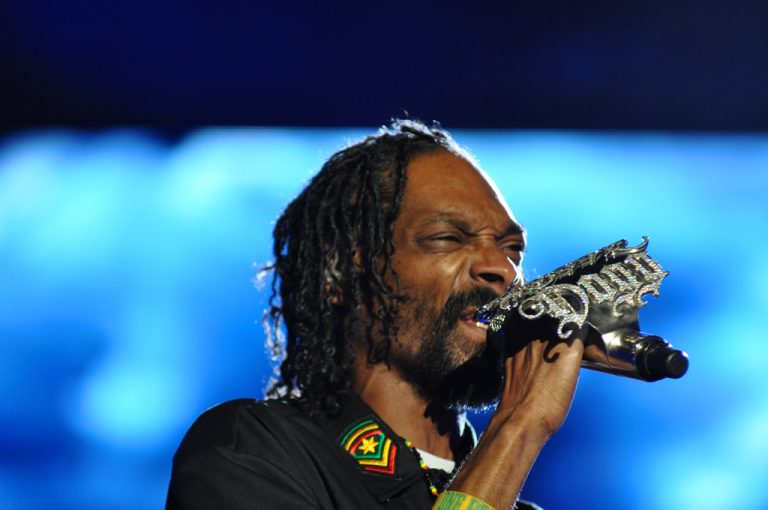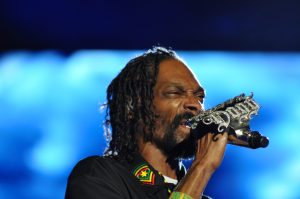 Like most other entertainers, Snoop is working on diversifying his income as well. On top of his long-standing music career, the D-O-double G has also invested money into his own cannabis company, Leafs by Snoop. The line is sold at about 100 dispensaries in the United States and sells shatter, wax, bud, CBD, oils, edibles, and other cannabis products.
Snoop has also been able to earn a considerable amount of money through different endorsement deals. He's had plenty of random endorsements for companies like Burger King and Wonderful Pistachios, but Snoop's made a lot of other money moves too.
At the beginning of 2019, Snoop invested in Klarna, a Swedish technology company valued at $2.5 billion. Klarna offers a buy-now-pay-later option for more than 100,000 online retailers. "I've endorsed them, advised them, and now I'm looking to invest in them. I plan to keep growing the portfolio, ya dig?," Snoop told Forbes.
Trellis is another marijuana-based company Snoop has put some money into. It is a seed-to-plant cannabis business. Trellis is being launched by Casa Verde Capital (another company Snoop co-founded). It is still getting its roots planted but could lead to further growth in Snoop Dogg's net worth. Through Casa Verde, Snoop has also invested in Oxford Cannabinoid Technologies, a British cannabis firm.
The California native also has stock in Reddit, Robinhood, Philz Coffee, GameOn Technology, and MERRY JANE. Merry Jane, like many of his other investments, is a cannabis-focused business honed in on marijuana culture in the U.S. From the marijuana business alone, Snoop's made millions.
Assets
Another contributing factor to Snoop Dogg's net worth is his assets, like his Claremont, California home or his massive car collection. His eight-bedroom, five and a half bathroom house in Cali is worth millions. Check it out on this old episode of MTV cribs…
Snoop's car collection is worth millions too. Here is a list of his car collection, many of which have higher unknown values because of the level of customization Snoop put into them…
Cadillac Snoop Deville 
1966 Pontiac Parisienne "Lakers edition"
1967 Cadillac Deville 
1967 Pontiac Parisienne Convertible
1968 Cadillac Coupe Deville
1968 Buick Riviera
Chrysler 300C
Dodge Challenger SRT8
2011 Ford Mustang GT "Funkmaster Flex Edition"
Polaris Slingshot
He also owns a few other odd things, like a school bus, and multiple other sports cars that he hasn't customized (yet).
Personal Life
Snoop is married to his high school sweetheart, Shante Taylor. The couple first got married in 1997 but filed for divorce in 2004. However, it was only four short years until the remarried once again. Snoop's finances were not impacted by the split at all.
The rapper also has four children, three with his wife Shante and one from a previous relationship. In 2015, Snoop became a grandfather when his oldest son brought a son of his own into the world with his long-time girlfriend.
How Much He Spends on Weed
There is no doubt Snoop Dogg's net worth could be much higher without his 81-blunt-a-day smoking habit. That's right! Eighty-one blunts a day are rolled and smoked by Snoop Dogg. Well, they aren't rolled by him.
Actually, Snoop employs a full-time blunt roller who he pays $50,000 per year. So, when you break down the math, on marijuana alone Snoop is spending up to $100,000 per year ($1,888 per week), plus a salary for his blunt roller.
That being said, Snoop Dogg's net worth certainly isn't hurting, despite his marijuana habit. Not to say that is the case with everyone, but to each his own, right?
Read More