Anne Hathaway is in the spotlight for her role in the latest film adaptation of Roald Dahl's The Witches. Hathaway is known for her classic beauty and quirky roles in movies like The Princess Diaries and The Devil Wear Prada. However, she has played a number of esteemed roles in various movies and television programs over the years. She's even landed a product endorsement (or two). Here's a look at Anne Hathaway's net worth…

About Anne Hathaway
Hathaway was born on November 12, 1982, in Brooklyn, New York. Her father was an attorney and her mother was an actress. At the age of six, Hathaway saw her mother appear as Fantine in Les Miserables on stage. It was then that she fell in love with performing, she says. Seeing how much she was drawn to it, Hathaway's parents wanted to discourage her from pursuing acting. So, her mother quit and began to stay home with her children.
Growing up, Hathaway was a devout Catholic. She has even said at times she dreamed of being a nun when she wasn't dreaming of being an actress. Her brother eventually came out as gay though and the family wound up converting to the  Episcopal Church. Later, they stepped back from their religion completely as a family. In 2009, when asked, Hathaway said her beliefs were a "work in progress."
Despite her parents trying to discourage it, Hathaway was drawn to the stage. During high school, she became the first teenager admitted to the American Academy of Dramatic Arts. Throughout high school, she also sang in the All-Eastern U.S. High School Chorus. And, before she could enter her first semester in college, she began filming on the set of The Princess Diaries (2001).
Her Career
Photo: Made In Hollywood
At the start of her career, people likened Hathaway to a young Judy Garland. In the same year she debuted in The Princess Diaries, she also appeared in the Disney film The Other Side of Heaven. Suddenly, she was booking work left-and-right. Directly after The Princess Diaries, she started doing voice work for a British children's program.
Being labeled Hollywood's "princess," she went on to film Princess Diaries 2 and Ella Enchanted. But as she grew, her fans grew too. So, she began to pursue more adult roles. In 2005, she starred alongside Heath Ledger and Jake Gyllenhaal in Brokeback Mountain. Then, the following year, she was cast in her next "adult role" in The Devil Wears Prada.
Since then, she has starred in Bride Wars, Love & Other Drugs, The Dark Knight Rises, Don Jon, Interstellar, and the film adaptation of Les Miserables, among numerous other titles. She has also voiced characters in animated films and TV shows as well. Hathaway has voiced characters for the hit show Family Guy as well as the children's animated films Hoodwinked and Rio. Most recently, she has appeared in Ocean's 8 and now The Witches. 
What has this hard work and success in her career done for Anne Hathaway's net worth overall though?
Anne Hathaway's Net Worth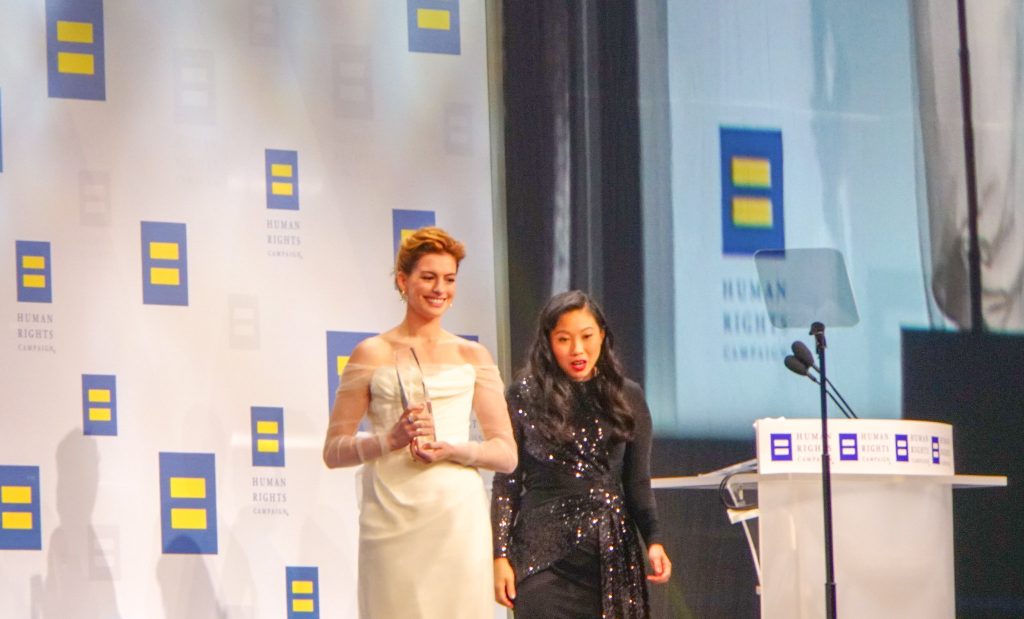 Photo: Ted Eytan
Anne Hathaway's net worth is estimated to sit between $35 million and $65 million. Most of her wealth has stemmed directly from her work on the big screen. Hathaway earned approximately $5 million each for her appearance in Get Smart (2008) and Bride Wars (2009).
Overall, Hathaway's films have earned an astounding $6.8 billion worldwide and she was noted as the world's highest-paid actress in 2015. She also appeared in the Forbes Celebrity 100 in 2009. During these years, she was playing some of her most infamous roles.
In 2009 when she made the Forbes list, for example, she starred in Bride Wars, one of her highest-paying films thus far. The year she was noted highest-earning actress she wasn't part of any huge projects, but she was continuing to earn from his role in Le Mis on top of working on the set of the comedy The Intern and a few other films.
Endorsements & Assets
There have been a number of red carpet events where Hathaway sporter Armani clothing and it has been questioned whether or not she is a paid endorser. She is a confirmed endorser for Lancome and a brand called Tod's.
It should also be noted some assets contribute to Hathaway's overall net worth. In 2014, she sold her home and collected $4.3 million from the sale. She then moved to a penthouse in New York City that she was looking to sell earlier in 2020 for $3.5 million.
Hathaway and her husband, Adam Shulman, picked up a home in Connecticut for $2.8 million. The couple also reportedly owns a home in Los Angeles, valued at a few million dollars as well. They have two sons, the latest born in November 2019. They spend much of their time in one of these two homes.
Currently, Hathaway is traveling to promote The Witches and has run into some controversy. It is yet to be seen if this will impact her ability to get work in the future. She is already working on several projects to debut in the next few years, so it is likely she will continue earning at a high rate.
Take a look at the video below to see what the controversy is all about…
Read More