This election cycle brought forth a lot of changes. One of the biggest shifts people in America have seen is people focusing less on mainstream media sources, such as CNN, MSNBC, or Fox News, and looking to independent news sources instead. Two of the frontrunners in the independent media industry have been The Young Turks and Louder with Crowder (TYT being the more progressive source). On election night, Crowder pulled in millions of viewers and has surpassed many of its competitors. What has this done for founder Steven Crowder's net worth?
About Steven Crowder
Crowder (Steven Blake Crowder) was born on July 7, 1987, in Detroit. However, his family moved to Quebec, Canada, when he was just three years old. So, he spent much of his formative years in Canada. When he turned 18, he returned to the United States.
Early on, Crowder did not have any particular interest in politics off the bat. In fact, his first job was as a voice actor on the PBS program Arthur. He also began doing standup at the age of 17 and played a number of small roles in films. By 2009, however, he found himself fully emerged in the world of political commentary.
At the time, he was regularly featured on conservative media channels, such as Pajamas Media and Breitbart News. From 2009 until 2012, he was employed by Fox News as a political commentator. Here is where he gained more notoriety than he had in any role before.
Louder with Crowder
In 2013, Fox announced it would be letting Crowder go from its network due to some statements he'd made about fellow host Sean Hannity as well as the network. After that, he began focusing more on content creation on YouTube and found he was speaking to an under-served audience: conservative.
Four years after that, his program Louder With Crowder became a daily show on CRTV, which later merged with The Blaze. In 2018, Crowder gained even more recognition after his "Change My Mind" segment on the show was turned into a meme. This helped gain Crowder some more attention, especially once people tuned in to the mildly controversial segment on YouTube.
Louder With Crowder has been a show drenched in controversy since its inception. YouTube and other censors online have de-monetized his videos on multiple occasions because of the viewpoints shared. There have been a number of lawsuits against Crowder and his production team because of the content they put out. Nonetheless, Crowder has been able to make a name for himself. So, what has that done for his overall net worth?
Steven Crowder's Net Worth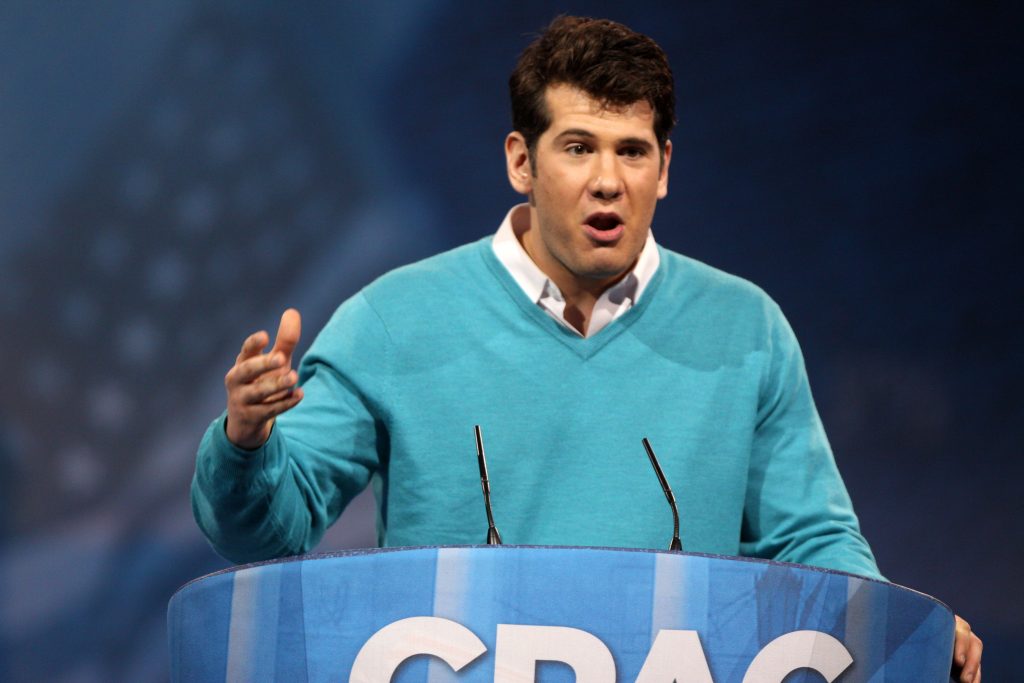 Photo: Gage Skidmore
When it comes to Steven Crowder's net worth, many sources have his wealth estimated between $3 million and $4 million. This stems directly from his work on his show and producing content for the program. It has been reported Crowder makes up to $100,000 per month and $1.2 million each year.
YouTube helps him pull in between $188 and $3,000 daily. In addition to YouTube ad revenue (which often gets pulled from the channel), Crowder has a subscription service as well called Mug Club. The subscription costs $99 per year and Crowder has attributed it to what keeps the show running. If he earns any money from endorsements on the show, it is between $2,000 and $3,300 for sponsored posts or video mentions. He can also be hired to speak at events for $30,000 to $50,000.
Besides the earnings listed above, some of his net worth can also be attributed to some of his possessions. Crowder has managed to keep much of his life private, so there is no information on where he lives or the value of his property though. The median home value in the area he lives in sits around $282,000.
If you factor in his practically on-the-staff "half-Asian lawyer Bill," plus his other regular legal costs, Crowder regularly has to spend his hard-earned money defending his right to free speech. On top of that, Crowder's wife, Hilary, has been ill as well. While there aren't any signs he is hurting financially, he takes every penny he earns to put back into his business and family.
Readers, what do you think about Steven Crowder's net worth? 
Read More