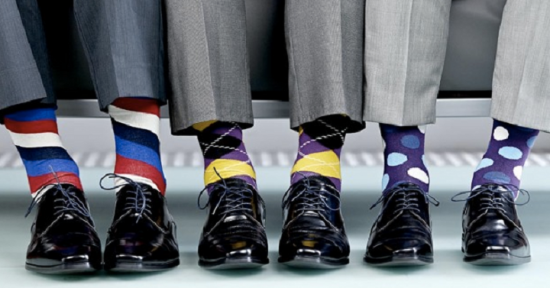 The holidays are approaching (and fast), which means many people will be searching for the perfect gift. Whether you are shopping for your significant other or family, gift buying can be stressful. This is why monthly clubs, like Sock of the Month Club, have become so popular. But are sock of the month clubs worth it?
The Value of Sock of the Month Club
Giving a subscription as a gift can be great, especially if it is something the person will use. In recent years, Amazon Prime memberships, Netflix memberships, Dollar Shave Club and even Sock of the Month Club have all become popular gifts. This may be because each of these is a not-so-expensive gift that is used throughout the entire year. (Most other gifts may get tossed to the side after a few weeks.)
If you have someone on your list that loves fun socks, you may have considered a sock of the month club subscription. So, what are the best sock subscription services and how much do they cost?
Best Sock of the Month Clubs
Sock Panda

If you want fun socks, you're likely paying more than $10 a pair for them (and more towards $20 for most). Fashion socks are trendy and, for some, a way to maintain some individualism in a suit or their everyday work attire. Sock Panda charges $12 a pair ($19 for two pairs) and the socks will be delivered to your doorstep (or the doorstep of the person you buy them for). If you're buying this as a Christmas gift and want to purchase the entire year's worth of socks, you can pay $192 total for two pairs of socks for 12 months (cutting the price down to $16 per two pairs). You can also opt for month-by-month payment. Sock Panda allows cancellation at any time. What sweetens the deal for many people is that Sock Panda gives a pair of socks to someone in need for every pair of socks you purchase. So, it is truly the gift that keeps on giving.
Loot Socks
This sock of the month club is my personal favorite. Loot Socks, much like Loot Crate, provides you with socks that speak to your inner nerd. You can get designs with superheroes, your favorite comic book characters, Star Wars and Dragon Ball themes, and much more. Loot Socks also provides the best value of the sock of the month clubs. You can get two pairs of socks each month for $9.99. Like with the other subscription services, you can cancel any time you wish. However, Loot Socks doesn't appear to have an option to pay for a year in full. So, if you want socks for the entire year, it will have to be paid on a month-by-month basis.
Are Sock of the Month Clubs Worth It?
Depending on who you are shopping for, sock of the month clubs can definitely be worth it. For instance, if your dad likes to wear a different pair of goofy socks every day, you could buy his Christmas gift for less than $200 and get him socks all year round, or you could do a one-time purchase. Though they don't appreciate in value or offer any HUGE discount, sock of the month clubs can be fun and make a great gift!
Have you ever subscribed to a monthly club? What was your experience?
Enjoy Plunged in Debt?
Subscribe to get our latest content by email.