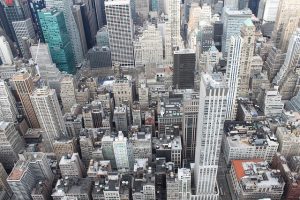 Every year millions upon millions of people move to a new city. The reasons for relocation vary from person to person, but the U.S. Census Bureau has been tracking that information for nearly 20 years. They've narrowed down 19 core reasons for moving into three categories:
·  Family needs
·  Job-related
·  Other housing
In other words, many people are moving to improve their family life, career or housing situation. No matter why you moved, once you're in a new city you've got to begin building your new life. That starts with getting a few necessities squared away.
Getting Your Medical Needs Covered
Find a New Doctor
Everyone can benefit from having a primary care physician, especially if you have an HMO health insurance plan or a chronic illness. Finding a doctor you can trust can be a tedious, stressful process. Start by asking your current doctor for recommendations. HealthGrades.com is another free resource for finding a new doctor. You can search by specialty and location then read the reviews and credentials for nearby medical professionals.
Find a New Pharmacy
Once you've found a new physician you'll need someplace to fill your prescriptions. Fortunately, there's a search tool for that which allows you to find a pharmacy near you – just click on pharmacy near me. Just type in your new address and the tool will give you a list of all the local pharmacies.
Find the Closest Hospital
Another piece of information you hope you never need but nonetheless is good to have is the location of the closest hospital to your new home. However, keep in mind proximity isn't the only consideration. If there's an emergency, you need medical attention fast.
Use Google maps to find the closest hospitals and emergency rooms. If there's more than one, map out the distance but also pay attention to traffic. You may find that the closest option isn't necessarily the quickest option.
Find a New Dentist
Even if you only see the dentists for semi-annual checkups, they play a vital role in your overall health. Again, you can ask your current dentists for suggestions to speed up the process of finding a reputable professional.
Getting Your Financial Needs Covered
Some people move to reduce the cost of living. But where are you going to put all the money you saved? Banking is largely virtual now, however, you can still benefit from having a bank you can go to and speak with people face-to-face.
If you plan to stay with your banker use their website or give customer service a call to find out about local branches. People that bank with a credit union may be able to use a sister branch without having to close their current account. Check with your credit union to make sure your local credit union is compatible.
Getting Your Education Needs Covered
If you're a college student or have school-aged children, educational facilities are a top priority. You'll need to start the enrollment process ASAP (or at least as soon as you have documentation with proof of your new residence). But before you can do that you've got to find the school you want to attend.
For elementary, middle and high schools there's no better resource right now than GreaterSchools.org. You may be limited to certain public schools in your immediate area, so keep that in mind if you haven't found a place to live yet. Another thing to consider is routes to the school and whether bus pickups will be an option.
Getting Your Social Needs Covered
After all the work involved in making a move, you deserve a break. Depending on where you move there could be more entertainment options than you'll ever get around to enjoying. So how do you go about finding the best entertainment that's still affordable? Here are a few places to try.
Public Parks – Public parks are the quintessential place for free entertainment. Check the city's website to find out which parks are open to the public. Don't forget to check the events calendar for
Local Libraries – Libraries regularly host free readings and events in addition to loaning out free reading material.
Local Sport Centers/Teams/Athletic Clubs – Sports are a great way to bring a community together for a little fun.
Meetup.com – Meetup.com is the go-to resource for finding clubs, get-togethers and groups that enjoy your favorite pastimes. There are even groups of people who are new to a city.
Now get out there and start enjoying your new city!
Enjoy Plunged in Debt?
Subscribe to get our latest content by email.