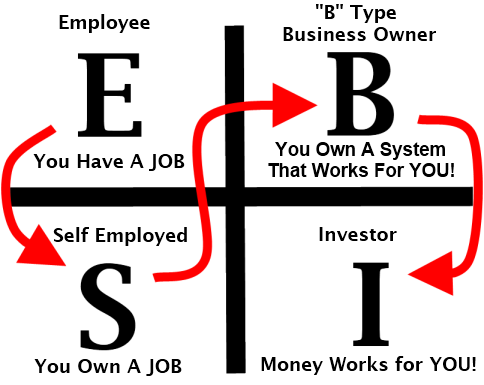 Are you a budding entrepreneur? You may have read or learned about the cashflow quadrant before. It has been providing entrepreneurs with direction in what path they may or may not want to choose as far as their careers go. If you're interested in learning more about the cashflow quadrant, you'll find a breakdown of the system below.
What is the Cashflow Quadrant?
Robert Kiyosaki created the cashflow quadrant to easily break down and help others visualize different careers and why those paths may be attractive to some and not others. The cashflow quadrant separates into four equal parts (hence quadrant). Those four parts are employee, business owner, self-employed and investor.
What does it mean to be part of each part of the cashflow quadrant?
Employee
Almost everyone is an employee at some point in their life. The idea behind the Kiyosaki's cashflow quadrant is to encourage people to branch outside of simply being an employee. Employees usually get paid an hourly wage or salary. All of the income an employee has is directly correlated with how much work he or she does. You also don't have much control over your work environment or the demands of your position. Employees also pay more taxes than the other three businesspeople in the cashflow quadrant.
Self-Employed
Being self-employed is a great decision for many people. Being self-employed means that you will be able to create your own schedule, you won't have a boss to answer to and you ultimately decide how much cash you make. Self-employed individuals have more tax write offs than people employed by a company or larger business. Becoming self-employed can be tricky though and it doesn't work for everyone. You should research the cost of being self-employed prior to jumping into any venture.
Business Owner
Next you have business owners. Kiyosaki defines a business owner as an individual who earns leveraged income. The cash a business owner earns does not come directly from any work they did but from the work other people within the company did. Business owners don't pay as many taxes as employees because they have more write-offs (some employees have none at all) and they wind up having more "cashflow" or passive income, which gives them more say on how they spend their time.
Investor
An investor, according to Kiyosaki, is anyone who does not have to rely on their own work or the work of others to earn money. For the most part, people work their way into the investor quadrant. You can invest in the stock market or into a company. However, the best investment to make is in yourself. Place some money into an IRA, 401K or life insurance account for yourself. Each of these will continue paying over time. Investors are able to sit back and relax and let their money make money.
Any road that leads to financial freedom is a good one. The cashflow quadrant has helped many entrepreneurs find a path to creating passive income for themselves or even starting their own business and will likely continue doing so for years to come.
Did you enjoy reading about the Cashflow Quadrant? You may also enjoy about becoming your own boss and paying the LuLaRoe Startup Costs.
Photo: Personality Hacker
Enjoy Plunged in Debt?
Subscribe to get our latest content by email.