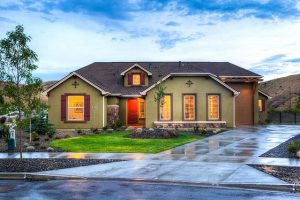 The mortgage process seems like a daunting task to many first-time homebuyers.
But it doesn't need to be.
There are a few loan programs tailored towards first-time buyers making it easier to qualify for a mortgage.
In this article we're going to go over the different types of mortgage programs for first-time homebuyers.
Loans for First-Time Buyers
FHA Loans
Many years ago you used to need a huge down payment, an excellent career, and great credit to qualify for a mortgage. However, the Federal Housing Administration changed all that with the introduction of the FHA loan. With an FHA loan you can qualify for a home loan with just a 580 credit score and a 3.5 percent down payment.
Because these loans are easier to qualify for than conventional loans they are very popular with first-time buyers. Finding FHA lenders is not hard to do, many lenders offer these mortgages. It's important to get pre-approved for a mortgage loan before you start house-hunting. A pre-approval is quick and easy, it requires a credit check and your tax returns, pay-stubs, and bank statements to verify income and assets.
Advantages of FHA Loans
Low 580 minimum credit score required
5% down payment
Low mortgage rates
Gift funds can be used for down payment
FHA streamline refinance eligible
Cons to FHA Loans
Lower loan limits than conventional loans
Required mortgage insurance regardless of LTV ratio
75% upfront MIP
USDA Loans
The US Department of Agriculture started offering home loans to low to middle income familes in rural areas of the county. These loans have many great benefits such as 100% financing and a low mortgage insurance rate.
Mortgage insurance is required for all home loans except VA loans. FHA and conventional loans have a PMI rate of 0.50%-0.85% annual. USDA loans annual mortgage insurance rate is just 0.35% which can save homeowners over a thousands dollars per year.
In order to qualify you'll need at least a 640 credit score and a household income that doesn't exceed 115% of the median income in your city/county. You also need to be located in a USDA eligible location. Over 97% of the country is USDA eligible, if you're a first time buyer a USDA loan can be a perfect fit.
VA Loans
If you happen to be a Veteran then you may already know about VA loans. A VA home loan is one of the best benefits for military personal and their spouses. Like USDA loans, VA loans offer 100% financing so you need no money down.
VA loans are also the only type of mortgage loan that doesn't require mortgage insurance. Even if you don't put any money down you still don't need insurance which can save you thousands.
203k Loans
For first-time buyers looking to buy a home that needs a little TLC there are 203k loans. These loans are a type of rehab loan where you can borrow money to but a fixer-upper plus get up to $35,000 in additional cash to make repairs or renovations.
In order to qualify for a 203k loan you need to have fairly descent credit because lenders are loaning more money than the property is worth. Typically you will need a 640 or higher score to qualify for 203k loans. All the other guidelines are the same as FHA loans and they require a 3.5% down payment.
Conventional Loans
If you have 20% down or are needing a loan amount that exceeds the FHA loan limit you can get a conventional mortgage. Conventional loans are available up to $424,100 in most low cost areas. If you have 20% to use as a down payment you won't need to carry mortgage insurance. Even if you don't have 20% down, PMI will be removed from your mortgage once the lTV value reaches 78%.
First-Time Home Buyer Programs
As a first-time homebuyer you have access to many types of home buyer programs and down payment assistance programs. HUD has available state programs listed on their website. To find local programs you can search your county or city website.
Enjoy Plunged in Debt?
Subscribe to get our latest content by email.