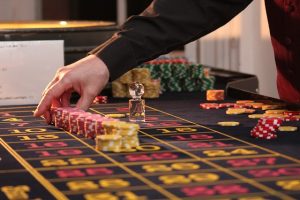 One of the games most online casino real money players choose nowadays is a slot machine called Mega Moolah. Aside from being a cute game with its reels filled with African animals, Mega Moolah is popular at the Wild Jack Casino and beyond because of its generosity. Released in 2006, Mega Moolah has paid outs its consistent progressive jackpot over 35 times, making the same number of millionaires – the Wild Jack's most popular game has a jackpot that resets to 1 million euros when won. And it is hit quite often, too – this June, the jackpot was hit twice, paying out over $1.5 million to the lucky winners each time.
Reading the above might suggest that it's easy to hit a jackpot on a slot machine. Which is not quite true – for every jackpot winner, there are thousands of players who don't hit it. So, before you run over to the closest casino, online or otherwise, to try your luck, you should know about the chances of you hitting that jackpot – and those of winning big on other similar games.
Safe bets, safe games
The simplest game of chance ever invented is the coin toss. Here, each side has an exactly 50% chance of landing on top – or the chances of heads or tails landing (and you guessed right) are one in two. Some casino games have bets as safe as a coin toss, like the red/black and odd/even bets in roulette. Here, the chances of you winning are 50%, and the money you win is twice your original bet – which is the lowest possible payout in the game. Blackjack, while it is a much more complex game than a coin toss, also gives players an almost 50% chance of winning each hand. As such, it also pays out a win equal to the initial bet – or, in gambling terms, even money (with the exception of a Blackjack, which pays 3 to 2 or 6 to 5, depending on the table, the casino, and the variant of the game played).
Big wins, big risks
The bigger the risk, the bigger the reward – this is valid for many situations in everyday life and especially true in casinos. Usually, the bigger the potential win attached to a certain bet, the lower the chances of you winning it. Let's take a look at roulette again for an example: placing a bet on a single number has a chance of 1 in 38 (or 37, depending on the variant) to be successful. It also comes with the highest reward: a 35 to 1 payout or 35 times the original bet.
Slot machines are a mix of the two types of bets described above – they come with more frequent winning combinations with lower payouts and more unlikely ones with higher rewards. As you might expect, jackpots are the rarest and highest prizes you can win playing a slot machine – you need a very specific combination of symbols to land on the reels to have a chance to hit them, and these can also trigger further side games (like a wheel of fortune in some games) that stand between you and the top prize.
The chances of winning a slot machine jackpot are hard to express with numbers as they are different for each individual game. The chances of hitting the jackpot of Megabucks, one of the most generous Las Vegas slot machines, are 1 in about 50 million – there was one man called Elmer Sherwin, though, who hit it twice.
The Lottery
Lotteries are perhaps the most popular games of chance – and the ones with the lowest chances to be won. Predicting a sequence of five numbers out of a pool of 90 or six of them out of a pool of 45, respectively, might not seem such a big deal – but there are people who have played the lottery for decades without winning as much as a cent. To win the Powerball, America's biggest lottery, you need to correctly predict five numbers out of 69 (white balls) along with one out of 26 (Powerballs), which gives you a 1 in 292,201,338 (that's more than two hundred and ninety-two million) chance to win its Jackpot.
Enjoy Plunged in Debt?
Subscribe to get our latest content by email.