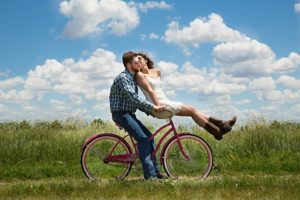 Our circumstances in life are not set in stone. Things change all the time – our job, our health, our relationships can all alter and give our day-to-day lives an entirely different complexion.
Yet, your 'old life' doesn't stop the moment you launch into a new relationship. That's especially true when it comes to your finances. It might not be the thing you want to bring up on your first date, but if you've got debts then it's something that you and your new partner are bound to require discussing at some point.
Many people are nervous about bringing up their financial past with a new partner, especially if they're in the midst of making payments on something such as an Individual Voluntary Arrangement (IVA) and worried about whether or not this changes the terms of their repayments as they plot a course to a debt free future.
So, will your IVA impact upon them?
The first thing worth stressing is that the debt in an IVA relates to an individual not their partner or anyone else. Even when it comes to joint debts, the IVA only covers the portion the individual is liable for. If you're worried about not marrying or moving in with your new partner for fear of passing debt on to them then you can rest assured that this should not happen.
That's not to say that you should do nothing. If you co-habit with someone else or get married then you do need to alert your IVA provider that your circumstances have changed. Clearly, your partner also needs to be aware that your IVA will show on your credit file and impact upon your ability to access credit from lenders. It remains on your file for six years after it begins.
When you live with someone, there is an assumption that you will fairly share out the bills. This is true if you are living with someone at the start of your IVA or, indeed, if you start your relationship once it has begun.
While your new partner will not be expected to pay off your creditors, it might be true that moving in with someone else means that you now share bills – rather than have to pay them all yourself – and are seen to have a greater disposable income.
If you move in with a new partner who owns a property, then you clearly won't automatically have a share in the equity for that – likewise for a partner or spouse who moves into a property that you might own (which was taken into consideration when the IVA was set up).
It only becomes complicated if you want your new partner to take equity in your new property and share in the financial burden (there are probably more romantic ways to word it!). In that case you need to take financial advice and ensure you go through the financial factors involved in adding a partner or spouse to your mortgage.
An IVA is only affected if there are significant changes to your circumstances and income, speak to your assigned insolvency practitioner who can advise you how to approach the situation.
Enjoy Plunged in Debt?
Subscribe to get our latest content by email.