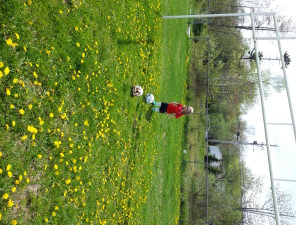 This summer Maria partook in her first, of what will be many, extracurricular activities. We signed her up for soccer and she loved it. Mike still plays soccer as an adult and though I was never big into team sports growing up, I value their importance. Soccer was a great introduction for both us and her into extracurricular activities. She is starting to understand the commitment of attending her "games" (though soccer at 3, according to Mike, is more like herding cats than actual games), we as parents got our first feeling of change in our schedule, and it was a fair price especially since we didn't know how she'd take to it so young.
For $75, she played 10 weeks of soccer. The price also included a team t-shirt and goodies at the end of the season (a little medal, a bag for soccer gear, some stickers and candy treats). We were pretty impressed. With the fall and winter coming, we wanted to sign her up for something else, something we know she will love, dance class.
Maria loves to move. Her favorite thing is to get us to play YouTube videos and she dances along to them. It was a no-brainer that we'd put her in dance classes. That was until I contacted the local dance academy.
At age 3-4 they're put into an intro to dance class which is more about listening to instructors and being immersed into the dance culture than formal dance instruction. Though this particular school is widely regarded for its competitors in many forms of dance (mostly ballet), I was more than a little shocked to hear the tuition for the year (8 total months) would cost $415 plus 15% taxes and uniform cost. Over $500 to simply introduce her to it. I was also shocked to see if they stick with it and become highly competitive (dancing 10-15 hours per week), I could expect over $1,000 for tuition each semester (3-4 per year) plus competition/recital fees, pictures, costumes, dance shoes etc.
Though I value children doing something they both love and gain physical activity from, I don't know we'll ever get to a point where we're willing to pay over $5,000 a year for something. Again, I don't know as we're many years away from that decision but do feel like I could invest $5,000 per child in many other ways- varying extracurricular rather than one single activity, more travel, more post secondary education funding, more funds in general for their needs.
I never want to be that parent who says they can't do something, especially if it's a financial reason but I will need them to understand and value what they're getting for the money spent. It's not that we wouldn't spend $5,000 per year on our kids, it's just that we'd need them to understand that with that sort of cash going towards a single event, there will be concessions in other areas.
In terms of where we're at now we won't be enrolling her into a dance class at this school for some time, if ever. We're looking into public classes through parks and rec as well as a few other things like swimming lessons and other winter/indoor activities. I know it's cliché, but I do want the world for my kids. I want to be able to provide them with as many opportunities in life as I possibly can, but enrolling her into a sport that has tuition as high as a year at university will limit those abilities.
Were you into, or are your kids into, any expensive extracurricular activities? How do/did you manage?
Enjoy Plunged in Debt?
Subscribe to get our latest content by email.