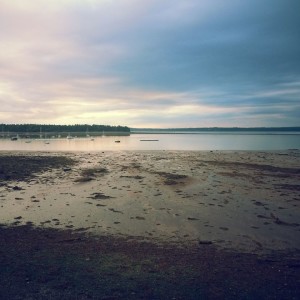 I'm not currently living the life I want. I'm living the life I need to in order to get the life I want. I'm more than happy with our life given our current situations but not how I want to live forever. My so called "dream life" involves things like a more appropriate family home, a second vehicle, more vacation time, likely more children and overall, less worrying and more enjoying. All of these things I will have when our debt is paid off.
A few years ago I would dream about these things but not do anything about obtaining them. I had accepted my debt and thought it was my prison sentence. I allowed my debt to define our life. I would read stories about people who worked towards paying their debt off and living the life they always wanted but I had it in my head that it was impossible for us. I had absolutely no grounds for my thoughts since, at the time, I hadn't even calculated a budget for us. I was doing nothing to get the life I wanted, yet thought I deserved. I just expected it to arrive at my front door.
To be fair, some stories are written in such a way  that it seems so impossibly easy it's unfair. "Just get a job that pays 200k/year and you'll be fine!" or " I was given a cash gift of 25k to help me…" I couldn't relate to anything and my situation felt unique. It was through blogs that I realized that I wasn't alone. Reading blogs like yours gave me a realistic perspective about our situation. Sometimes I feel great that we'll be in a really good financial situation before we're 35 while others makes me feel terrible for waiting so long to deal with our debt. All that matters is that we are doing something, now.
For me, what was standing in the way of us doing anything earlier was a combination of laziness and sheer ignorance. I wasn't willing to do the homework required on our finances. I wasn't willing to put in the hard work to make the money that was required to make the extra money we needed to get this debt paid off. I'm happy to report things have changed.
For me it took becoming a mother to put my life into perspective. Some people have the initiative and know-how from the beginning but I didn't. It took a lot of mistakes and education (and blog reading!) to get to where we are now. While I'm so glad we're finally here, I'm a little bummed we weren't at this point five years ago. I guess everything happens for a reason and we'll be better people for having endured everything we have financially. I know we make better decisions overall in life because of lessons learned so that's a positive.I work my ass off from the moment I wake until well past what should be my bedtime and I won't ever complain about it. Yes, I'm exhausted (and amazed at how well I function on such little sleep) but it's energy well spent.
Until we get this debt dealt with I won't stop holding my breath. I look forward to the relaxation and enjoyment from our hardwork but for now, that's light at the end of a seemingly long tunnel.
I have isolated what was standing  in our way. What was, or is preventing you from getting the life you want?
Enjoy Plunged in Debt?
Subscribe to get our latest content by email.