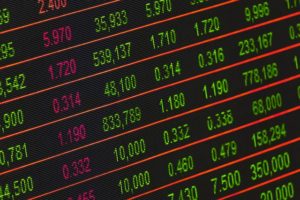 The Dow Jones Industrial Average (DJIA) or the 'Dow Jones' for short, is arguably the most recognized and significant of the US-based stock indices.
Harboring thirty of the stock market's most prominent publicly-owned entities, the index was formed by Dow Jones & Company co-founder Charles Dow, and today includes brands such as Coca Cola, Nike, IBM, and Intel; household names even to non-investors.
The precise make-up of the index, however, has changed significantly over the years.
Originally, the index consisted of just twelve stocks.  Today, editors at the Wall Street Journal decide which companies will be included, chosen for their prominence as leading representatives of their specific industries.
The index is calculated by dividing the cumulative value of the traded stock prices by the Dow Divisor, which can be adjusted in case of stock splits or other structural changes.
Its significance to investors lie in the fact it captures a relatively narrow snapshot of the trading health of some of the world's leading multinational mega-corporations. This is significantly different than other indices, such as the far broader S&P 500, as well as the small-cap Russel 2000. While some investors claim it is too narrow a selection to signal the direction of an entire economy, many still regard it is as the definitive barometer of New York's economic direction.
Those wishing to trade the index can do so through EFTs and option strategies, allowing you to adopt both long and short positions on the Dow's movements. A variety of EFTs are available on both these positions, including ProShares Short Dow30 (DOG) and SPDR Dow Jones Industrial Average ETF Trust (DIA).These ETFs are widely available from a number of online outlets, including UFX.com, and provide investors with a plethora of choices on how to trade the index's movements.
An alternative investment approach is the famous 'Dogs of the Dow' strategy, popularized by Michael Higgins in his book, "Beating the Dow". This strategy sees investors re-shuffling their portfolios to maintain equal distribution between the index's top ten stocks with the highest dividend yield.
Enjoy Plunged in Debt?
Subscribe to get our latest content by email.