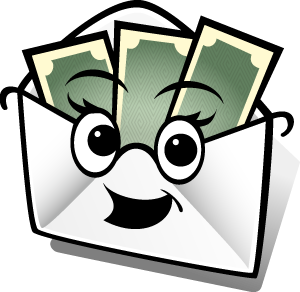 This weekend hubby and I decided, together, that we're switching to a cash budget.
I've always taken care of our family's finances. Not that hubby didn't know what was going on, but he didn't really know. For example, he knew we paid the mortgage sometime around the end of the month and knew the amount, but because he's never really sat down with me all looked at the nitty-gritty of our budget, he couldn't really appreciate the frustrations I was having with balancing the budget. We have more than enough money coming in every four weeks but I was struggling, mostly due to the fact that like 75% of our bills are due within 10 days of each other. I needed his insight to help me figure some of this stuff out.Two heads are always better than one.
He trusted me to manage the money and quite frankly, he didn't have any desire to manage our budget. He works as a project manager by day, managing million dollar projects for a living, he didn't want to have to come home and then deal with more budgeting. At first I didn't mind but as things got tighter (me being on mat leave) I started struggling.
We previously had it set up separating all bills from variable living expenses (food, gas, our cat, entertainment, prescriptions etc) so basically if there was money in the chequing account we could spend it. He'd see the amount and know that's what we had for the week (gas, groceries, cat all included). This only works so well.
If one party in a relationship doesn't understand why we only have 'x' dollars this week because of 'x'bills being due, it's easy for frustration and resentment to start.
Questions start, even if done in a loving way; What did I do to only leave us with this amount of money? Why does it seem like I'm nickle-and-dimeing every purchase?
Because both parties weren't 100% on the same page, it was difficult to make things work. I was feeling guilty about managing money a certain way, especially when I had to constantly say 'no' at a purchase.  I found it easier to say 'yes' and scramble to make the money up at the end of the month some magical way. This only works for so long.
When I realized permanently changing our mortgage billing date by a few days would help in the way that our paycheques fall, I called and changed it, even though we had to pay the adjusted interest amount to account for those days. When I tried to explain to hubby why I had to make the change he wasn't understanding at first, all he knew was that we had enough money coming in every month and didn't think there should be any issue. It was in this discussion that my hubby finally realized I may be in over my head managing it alone.
Yes I may be university educated 2x over; Yes I write a PF blog and read everything to do with money all.the.time; Yes I stay home on my birthday to watch a DVR full of 'Till Debt Do Us Part' but No, I couldn't make our budget work the way I knew it could work…alone.
He sat down with me on Friday night after a monster work week and together, for 4 hours, we managed our budget, week-by-week for the next 3 months. I haven't felt this relaxed about money in a LONG time.
I don't think money is evil. I think ignorance around monetary issues and not addressing them can cause people to be evil though. I'm so glad I don't have to think about money for the next while and when I do I know hubby will be there with me to fix any bumps in the road.
After we got the budget worked out and balanced, he made a to-do list, included on it was for me to buy/make/whatever a money envelope/jar because according to him, we were now on a strict cash budget (music to my ears)! Did I mention we also figured out and budgeted for a pretty kick-ass CASH CHRISTMAS?! I have so much relief knowing where the money is coming from and how we're paying for stuff and when.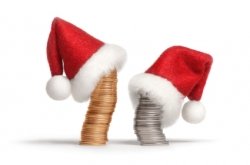 2012 isn't over yet but has been a monumental year for hubby and I in terms of growth as a couple.  We've been together since high school, spending our lives growing up together. I'm so proud the we're able to acknowledge that we're not perfect and address areas we know need help. Reminds me how much I love him.
________________________________________________________________________
Photo Source
Enjoy Plunged in Debt?
Subscribe to get our latest content by email.