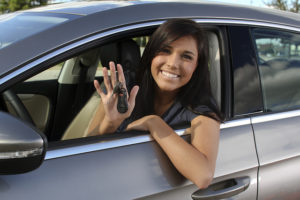 When teens start driving, one place you really feel it is in your pocket. Not because of the gas money they will no doubt ask you for but because of the expensive rates, you'll be paying for car insurance. Luckily, there are ways to keep costs manageable by making some smart choices.
Reasons Insurance Is So High for Teens
Insurance rates are based on risk. The higher risk a situation is, the more money will be charged for insurance. Teens are seen as high-risk drivers because the accident rates for teens are much higher than for older drivers. Insurance companies assume the worst. They assume they will need to pay out on a claim for your teen, so they charge them higher insurance rates. So, anything you can do to help prove your teen is less of a risk can be helpful.
Car Choice
The car your teen is insured on will make a huge difference. You will want to avoid insuring them on a brand new car or any vehicle that has a high ticket price. In addition, they should stay away from cars that are on the high theft list. Other cars that should be avoided include sports cars and cars with low safety ratings. Ideally, a sedan model that is fully paid off with good safety ratings is one of the best choices to make.
To research, you can check with the Insurance Institute for Highway Safety to find out about safety ratings. The National Insurance Crime Bureau releases lists of the most stolen vehicles. You can also check with your insurance company or ask questions on www.carinsurancecheap.net.
Discounts
Your child may qualify for certain discounts. Some companies may offer discounts for good grades. Organizations that they belong to or you belong to may also offer discounts on your insurance. Attendance of certain schools may also offer discounts. You should ask your insurance agent about possible discounts. They will often be willing to run through a list to see if your child can qualify for any of them.
Age
As each year passes, vehicle insurance rates go down. A teen who waits a year even to get his or her license can save quite a bit. If you wait until your child reaches the age where any restrictions come off, this can really lower rates. In most states, this will be age 18. While kids may want to get their license as soon as they can, it isn't always the best financial decision. Waiting not only allows them to mature and avoid common situations where teen accidents occur but it also can save a lot of money on insurance.
Tracking Devices
Some insurance companies offer tracking devices that monitor driving habits. If your teen is a good driver or doesn't drive a lot, one of these devices could end up getting him or her a nice discount. These devices usually plug into the vehicle and are left there for a few months while data is collected. They usually monitor driving times, breaking and distances traveled.
Driving Class
If your teen gets their license before he or she is 18, then it is probably likely they will have to take a driving course. However, if your teen waits, it can still be a good move. Having a driving course on record can help to lower rates because it shows the driver has professional driving training that may reduce his or her liability. Some insurance companies offer programs that can be taken.
Making Smart Driving Choices
The main thing you can do to help your teen get better insurance rates is to enforce rules and ensure he or she is driving smartly. There are devices available that you can use to monitor your teen's driving habits. Reckless behavior should be handled to prevent accidents from occurring. In addition, you may place restrictions on driving to keep your teen off the roads during the more dangerous times. Just keeping your teen's driving record clean can help a lot.
Trying to get low rates for a teen driver may not happen, but you can lower rates with some smart moves. You don't have to pay the highest rates out there if you take moves like making careful car choices, enrolling your child in a driving course and looking for discounts.
Enjoy Plunged in Debt?
Subscribe to get our latest content by email.