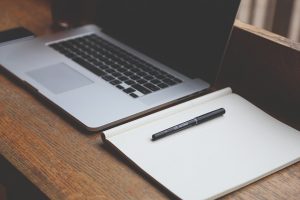 Are you in debt and looking for ways to change your current financial situation? Debt is a common issue for millions of people, but the remedy for this problem could be closer to hand than you think. The internet is one of the most powerful technologies ever created and if used properly, could help you get out of debt quickly. Below are some of the main ways you can use the internet to get out of debt.
Get an Online Qualification
Unfortunately, many people who are in debt have low paid jobs or don't have the qualifications required to apply for higher quality, better-paid positions. If this is the case, you may need to obtain a new qualification so that you give yourself a fighting chance to make more money each month.
However, many people are discouraged from furthering their education because they believe it will take up too much of their time or cost too much money. This was a valid excuse a few years ago, but the internet has made it much easier to complete a high-quality course.
For instance, if you want to eventually have a rewarding career in IT security, a wide range of information assurance degrees are currently available from universities such as Norwich University. This type of online information assurance program costs less than traditional classroom based courses and you can study wherever and whenever you want.
Online Discussions and Advice
A large number of people misunderstand debt and how to get out of debt. A wide range of websites, blogs, and forums have emerged that include all of the information you will ever need about this area.
Many of these websites are set up by government agencies, financial experts, and people who have managed to overcome their debt problems, and these online resources can be invaluable to anyone who currently owes a lot of money to others. However, like any online advice you receive, make sure you are getting it from reliable sources.
Freelancing
If you need extra money each month to meet your financial outgoings, becoming a freelancer is an effective way to quickly start making money using the internet. Large numbers of businesses are always looking for freelancers to help them out with all kinds of tasks.
Some outsourced tasks are complex while many are easy to complete, which means almost anybody can quickly start providing their services online. Examples of in-demand freelancing work include web design, content creation, graphic design, accounts, and virtual assistant work.
Start an Online Business
Thanks to the internet, starting your own business is a relatively easy process. There are many different business models you can adopt and they all have the potential to allow you to make a lot of money so that you can start reducing your debts. Creating a blog, establishing an e-commerce store or helping local businesses with their online marketing are just some of the ways you can achieve this goal.
The internet is one of the most important resources people in debt have today. Each of the points above will help you to increase your knowledge, reduce your outgoings, and eventually increase the income you can make.
See some of our top posts:
Which stores owe you Money?
Do you know Tai Lopez's Net Worth?
Jimmy Tatro's Net Worth
Save More Money in 2018
Subscribe and join the worldwide 52-week money challenge! Get the tools you need right to your inbox.