There's a common misconception that when you're trying to save money, you have to lock yourself away and never have any fun. But this is far from the case! As long as you're careful with money, there is absolutely no reason why you can't go out and have fun, while still saving money at the same time. It's all about making sensible choices.
Swap Your Brands
When you're doing your grocery shop, it can be tempting to buy all your favorite branded goods. However, you can save yourself a lot of money every week simply by swapping your usual branded items to home brand products. Of course, people believe that the more expensive brands taste better than home brands when, in fact, a lot of them are exactly the same product in an alternative packaging. Try to swap a few brands every week and see if you notice a difference, you might just be surprised at how good home brands are and how much money you save.
Shop Around for Better Prices
When your pet insurance or car insurance renewal comes in, it can be tempting to stick with the company you know even though they quote a more expensive yearly fee. Instead, you should shop around and use comparison sites to see if you can get yourself a better deal. Also, look out for insurance that comes with freebies such as breakdown cover as this will help save you money too.
For weekly expenses like fuel, try to find the best deals available. Something as simple as checking the local garages for the best fuel prices might only save you a small amount of money at the time, but this will soon add up!
You Can Still Eat Out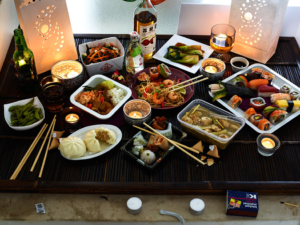 Saving money means we often try to avoid eating out entirely, but this can be incredibly hard when friends or family have celebrations. Instead, try to encourage going out earlier so you can dine on cheaper pre-set, early-bird or pre-theatre menus. Or try to use coupons which will knock a percentage of your total bill.
Even better, why not swap going out for dinner with takeout instead? Takeout food is much cheaper than eating at a restaurant, even though the food is of equal quality. Quite often you'll find that the portions are bigger too which means you'll have plenty left over for lunch the next day. An added bonus is that you won't have to pay for expensive drinks bills or get tempted by the dessert menu at the end.
You Don't Need to Quit Movies
There's no denying that a cinema trip is very expensive – especially if you want to buy snacks too. Yet that doesn't mean you should avoid the cinema entirely, as it can be a great experience for the whole family. If you do enjoy visiting the cinema on a regular basis, why not invest in an unlimited card? This will save you money and make sure you still enjoy yourself.
Or, you could even choose to pay for a subscription like Netflix where, for a small monthly fee, you have unlimited access to hundreds of movies and television series. You can make your own cinema experience by getting in some popcorn and cuddling up on the sofa to watch a selection of family classics.
Enjoy Plunged in Debt?
Subscribe to get our latest content by email.