Although women will probably understand this analogy slightly better, men will appreciate it none-the-less.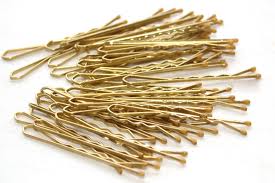 Anytime I get a new package of bobby pins (hair clips for you men), without a doubt, one-by-one, they always manage to disappear into the abyss. How I lose them is beyond me. I put them in my hair and take them out before bed in the same location, but somehow my brand new stash slowly dwindles away and I have no idea where they end up. My once lofty collection of bobby pins is down to one lonely clip. Every time I get down to that one clip I somehow manage to hang onto it; always knowing its exact location, because, you see, it is my last hair pin and I may need it. This happens, without a doubt, every time I buy these pesky little things.
Why Does This Continue To Happen?
Is it because I don't value them enough? They're less than $3.00 for about 50 of them and I rarely lose my more expensive hair clips. Do I subconsciously lose them because I know I will always have more? It takes time to slowly lose them.
If I applied this analogy to my money we'd have a pretty similar story. Or so that's how it once was. I'd get paid (brand new pack of bobby pins) pay the bills (putting them in and taking them out as per usual) yet somehow I only really started to pay attention to the money when there's almost nothing left (last, lone bobby pin).
Where did my money go? I wasn't really paying attention. Truthfully it use to be that didn't care that I just wasted $10.00 at the store on something I didn't really need/want/use because it was only $10.00, and I just got paid over 15x that amount. I didn't care. That was the problem. Not that I was always frivolous, but my thought process about money has changed substantially in the last 6 months.
Treat Money With Respect!
If I treated every single dollar like I do my last bobby pin, I'd probably be in an entirely different financial situation right now. Especially since switching to cash, I really give every purchase a good thought before forking over our hard-earned money. Not saying we now hoard cash and don't spend anything but we now apply value to that lunch date together, the food we're eating for supper or shirts we are wearing.
I truly believe I have lived my life the way I have to learn lessons just like this one. Although it sucks to learn anything the hard way, I'm a better person for it.
Lesson Learned.
Treat every dollar like your last bobby pin, even when you have a brand new pack, because each dollar deserves the last-pin-respect.
Enjoy Plunged in Debt?
Subscribe to get our latest content by email.