I think most people have some "a-ha" moment about money while in their transition from childhood/student life to adulthood. For me it was a story I read in Reader's Digest last year (although I have no idea how old the copy was). We have copious amounts of copies of Readers Digest in our waiting room at work. I don't often read them but when patients don't show up or cancel last-minute sometimes there isn't much else to do.
I am very much paraphrasing the ideas of the article and will probably not get all the details right, so I apologise in advance, the main point of the story remains intact though.
It was a story about a young boy, who at a young age (something like 6 years old), decided he wanted to make some of his own money while his parents hosted a yard sale one summer morning. With the "initial investment" from his parents of about $5.00, he set up a lemonade stand selling glasses at 0.50/cup. He ended up making something like $20.00 that day alone. He explains that he re-paid his parents and put his $15.00 profit in his piggy bank.
Over the next few summers he continued selling lemonade at every opportunity, always saving his profits. It wasn't until he was something like 9 years old that he told his dad that he wanted to get out of the 'lemonade business' and buy a lawnmower. His parents had no idea that in the past few summers their son had made, and saved, hundreds of dollars selling lemonade. Enough to buy a nice self-propelled gas lawnmower which will help him on his next entrepreneurial endeavor.
Let me explain how smart and business savvy this child was. He took his lemonade profits, bought the lawn mower but had no intention of wasting his childhood away mowing lawns, instead he would hire someone older, stronger, and more experienced to do the work for him all while making a profit himself.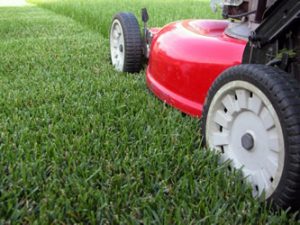 He reached out to some older kids he knew and offered them a summer job mowing lawns. He would provide the lawnmower, gas and nail down a few regular clients in the neighborhood (ensuring job security) but the older boy would do the work. He charged $25.00-$40.00/lawn depending on size and paid the older boy $15.00-$25.00/each lawn. Between the regular clients and the occasional cuts for people who were on vacation etc, they young boy profited something like $3000 for basically doing nothing (other than being the mastermind behind the operation) and the older boy made even more. Win-win situation. He was 9 years old!
He did this for the next few summers and eventually bought a few lawnmowers, hiring someone to man it each time, and carved out quite a name for himself in the lawn care industry in his community.
I don't remember the story-ending details, and I don't want to make something up, but I feel like this kid went on to university (totally paid for between his savings and scholarships to a business school). At the time the article was written, he was something like 20 years old and on his way to being a millionaire by the time he was in his late 30's due to smart investments.
I was flabbergasted when I read this story about the sheer intelligence and savvy mind of this kid. How does a young 6-year-old even think about such a business model? Most kids are playing with toys and concerned about what their friends are doing for the summer, not how to start-up and maintain a business.
And this is how selling lemonade changed how I view my money and forced me to look at what I've accomplished financially in my 28 years on this earth (which, sadly is basically nothing).
Has a story every changed how you view money? What do you think about this story?
_________________________________________________________________________