Receive $25 for a quick survey: a 10-to-25-minute questionnaire about health insurance — yes, you get paid right away!
[Read more…]
If you're enrolled in the Manitoba Public Insurance program (MPI), you may have some questions about what you're supposed to do in case of an accident. After being involved in a serious accident, it's hard to keep things straight, and properly report your accident.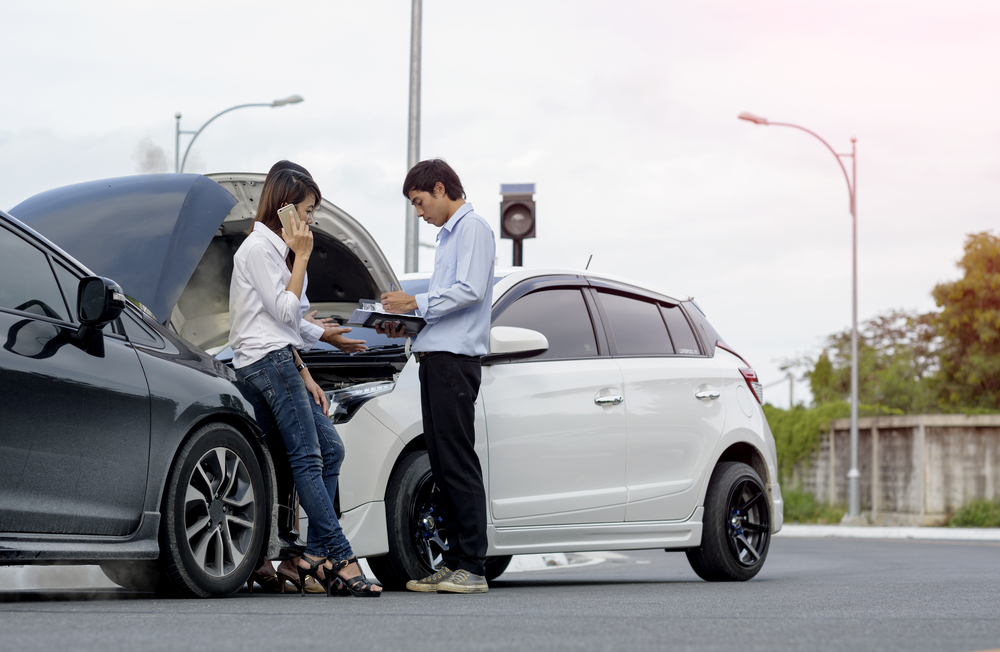 That's why we're here with a step-by-step guide on what you should do to report your accident to the MPI. Follow this guide, and the claims process is sure to go smoothly.
1. Stay Safe – Get Out Of The Way!
The first thing you should do is keep yourself safe. Call the authorities as soon as an accident occurs, and exchange information with anyone else who was involved in the incident. You won't need to call the authorities for a fender-bender, but you'll need to notify police if your accident involves:
● Fatalities
● Hospitalization due to injury
● Unlicensed drivers or unregistered vehicles
● An unidentified vehicle (or "hit and run)
● A failure to get insurance/personal information from another driver
● Impairment due to controlled substances
When possible, move all damaged vehicles to the right of the road, to keep it clear for other drivers, and wait until the authorities arrive.
2. Get Statements And Information From All Involved Drivers
The police will usually ask for statements from each driver involved in the accident. They will file these reports with the relevant authorities, so that usually covers all of the required statements.
However, if you're involved in a minor accident and authorities aren't needed, make sure you get a statement and the information of the other driver, so that you can provide it to the Winnipeg MPI.
3. Fill Out The Accident Report Form
After you're safe and have the information of the other driver, you should fill out an accident report form as soon as possible. A properly filled-out accident report form ensures that your claim can be processed quickly and effectively.
4. Report Your Accident (Even If There Was No Damage)
After you fill out your accident report form, give the MPI a call to report your incident – even if there was no/minimal damage to either vehicle.
If you're within Winnipeg, call 204-985-7000. If you're outside of Winnipeg, use the toll-free number 1-800-665-2410. If you're out of the Manitoba province entirely, call 1-800-661-6051.
When reporting your accident, you'll need:
● The registration of your vehicle
● The drivers' licence of whichever individual was driving the vehicle
● The details regarding your accident (when, where, why, how it happened)
● Details about other drivers/vehicles involved
● Information related to any witnesses to the accident
During this time, a MPI representative will take your preliminary report if you're claiming damages, and they will discuss your damage assessment options.
5. Drive Your Vehicle In For Assessment, Or Get A Tow
If your vehicle is still driveable, you can take it into a nearby service station, as instructed by your MPI representative. If your vehicle cannot be driven, the MPI will cover reasonable tow fees to have it taken to a nearby, MPI-partnered shop. See this page for more information about towing.
6. Have Damages Estimated By The MPI
If you're claiming damages, do not repair any damage before the MPI sees it. Only temporary/emergency repairs that prevent further damage should be undertaken. Without seeing the extent of damages caused to your vehicle, MPI claims officers won't be able to make a proper estimate.
Damages to your vehicle will be assessed by an MPI inspection officer, and you'll be informed about their findings as soon as this assessment is completed.
7. Complete The Claims Process
After your vehicle has been assessed, the claims process is nearly complete. Get in touch with the MPI to learn more about your compensation, and details about your case, and further details about the incident. You're done – if there are any further actions you must take, your MPI contact will let you know!
Don't Be Intimidated By The MPI Claims Process!
Filing a claim with the MPI is just about as easy as filing a claim with any other insurance agency. So follow these quick tips to help you make sense of the MPI claims process, and rest assured, knowing that your claim will be resolved quickly!
I originally published this post in the early days of the blog before any real traffic. My in-laws have recently been dealing with a very similar insurance issue of their own so I decided to re-publish in hopes of educating (more) people about the potential hazards of not having rental insurance. Please don't get caught without it!
Before the Hubs and I bought our house we had a sweet little one bedroom apartment we called home for two years. Quickly growing out of it and longing for a 'space of our own' we bought our current home but not before making good use of our rental insurance.
Hot Water Heating
Hubby came home for lunch one day only to grab something for work. I was at work and not to be home for a few hours. While he was walking down our hallway he noticed the floor outside our neighbors door was wet…so was the floor in front of ours…water was pouring out from under our door. Hubby's first thought was that he'd left a tap on, but when he opened the door he was greeted with a face full of steam, we had a hot water pipe break in the bedroom, underneath the exterior window.
The water had most likely been pouring out for hours. There was thousands of dollars worth of damage both to the apartment itself and our possessions. I am so thankful we had rental insurance. A quick phone call to our insurance company brought an adjuster to assess the damage.
Did I mention it was 2 weeks before Christmas? Yeah, it was great fun.
Dealing With The Mess
Our apartment was unlivable. They had to tear out walls, floors and dehumidify the place for days.
Most of the damage was in the bedroom where the pipe was located. Almost everything was ruined. The bed, all our bedding, TV, furniture, clothing and storage under bed all had water damage and black silt all over it. Thankfully our landlords were very accommodating and put us in another (furnished) unit while stuff was getting sorted out.
Upon inspection, the welder said that the pipe broke due to a weak solder joint where the pipe had bent around a corner. The landlords seemed to agree and nothing else was ever said to us.
We were back in our apartment two days before Christmas, sleeping in our new bed! It was nice.
The Threats 
The threats didn't start until after the holiday season.
The landlords approached us on behalf of the property owners sometime in January looking for damages.
Ummm WTF?! Damages?!
Apparently, the property owners decided it was our fault the pipe broke because, apparently, we left the window open (in -10 degree Celsius weather) and, apparently, we didn't turn the heat on enough to move the water properly through the pipes?! Ummm, Yeah. Ok.
They were after us for over $3000.00 in damages to pay for the flooring and dehumidification of the apartment (which, by the way was run out of our unit so was therefore added to our power bill).
We said NO. It wasn't our fault your pipe was a piece of crap and broke when we weren't home, had a window open? Or didn't turn the heat on?!
They didn't care. The property management called us personally and told us "Your credit rating will be affected if you don't pay us because we will have to SUE you, and court settlements ruin your credit rating". I'm not kidding. I'm thankful we had even half a brain to realize these are empty threats and completely untrue.
Had we ended up in court, given our financial situation at the time, we would of had to look at financing options like an online loan site to help us while going through the legal process. Thankfully we didn't end up down that road though!
Lesson Learned
The point of my story is that a week before the flood happened I suggested to hubby we cancel our rental insurance and save the $18.00/month. I am so thankful my husband said no.
Our insurance reimbursed us for everything and then some (gave us monetary replacement value for stuff we considered to be crap). More than that, they dealt with the property management company after we called them to tell them about the threats we had received. Truthfully I don't know what the end result ever was. We moved in August of the same year and although they kept our damage deposit (for 'damages', and after saying we were getting it back) I didn't ask what ever came about with the situation. I wanted to remove myself as much as I could and let the big boys deal with it.
The $360.00 we spent in renters insurance over the 20 months we lived there was probably the best $360.00 we've ever spent. It paid for itself 10x over in terms of item replacement and a million times over for dealing with the a-hole management company.
Moral of the story: Get rental insurance if you don't already have it, it could be some of the best invested money ever spent should you require it.
Have you ever made a claim on rental insurance?