I'm guest posting today over at Canadian Budget Binder…head on over and check it out!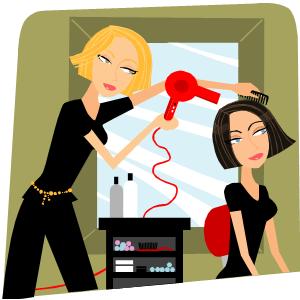 I have been faithfully going to my hairdresser for 10 years. What's even crazier is that she has been involved in every major event in my life in these past 10 years; chopping my hair off after I'd grown it out for prom, doing my hair for university formals, being with me on my wedding day and was my first 'outing' post baby. I love her, she's a fabulous person who I consider a friend, but she's not cheap.
During our 10 year relationship, she's managed to go from chair rental to buying her own salon and having many employees of her own. I'm proud of what she's accomplished by her early thirties. With her company growth and normal 'life inflation', her prices have gone up significantly. They're at the point now, especially with us cutting as many costs as possible, that I don't know if I can continue to see her.
At what point does one stop paying more for a service because of loyalty?
I keep my hair fairly short, getting it cut every six to eight weeks. I don't spend money on myself, ever, but I like getting my hair cut. I've been known to receive gift cards for myself and buy gifts for other people, but in all of my life's insanity, and there's been a lot lately, the one small 'treat' I allow myself is to see her every few weeks. For a few minutes, I forget my problems, and get prettied up for a few more weeks. Lately this has been pulling my heart strings when I realize what I have to pay.
She's not outrageously expensive, probably just a little more than a regular cut by most standards, but I have the opportunity to see a friend who can cut my hair, decently, for cheap. She teaches at the local hairdressing school and cuts hair on the weekends. Friends of mine see her and she does good work but I somehow feel like I'm being unfaithful for even entertaining the idea of seeing someone else. Not to mention, I genuinely enjoy the total experience my hairdresser gives me, it's about more than just getting my hair cut for me.
I have some reservations about seeing someone else because I'm so comfortable with her but my life's priorities have changed and saving money is more important than getting a haircut by someone just because I like them.
What do you think? Do you pay more for a service because you like the person, knowing there are cheaper options out there with the same (or similar) result?
Photo Source