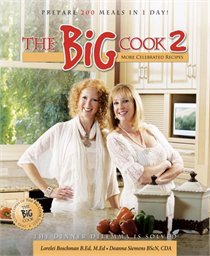 This past weekend my sister-in-law and I went to her aunt's house for our first Big Cook. If you're not familiar, Big Cooking is preparing multiple meals at once for your freezer so you just have to throw it in the oven or slow cooker and supper is done! Sounds pretty awesome to this momma who is always looking to invent a few hours every day!
Given that this was our first time doing a Big Cook, we decided on 10 recipes to try; preparing two meals of each recipe, giving each of us 20 total meals. Since both my sister-in-law and I have households of two adults and each recipe recommends a serving of 4-6 adults, we further reduced each meal (except one casserole) by two, giving us a meal total of 38 each, plus her aunt's 20 meaning we prepped 96 meals in one day! Pretty awesome right?
We made:
Sweet and Sour Meatballs
Tatertot Casserole
Chicken Cacciatore
Amazing Chicken
Cranberry Chicken
Honey Sesame Tenderloin
BBQ Pork
Friendship Soup
Bruschetta Chicken
California Chicken
All this required a multitude of ingredients including:
60lbs of boneless/skinless chicken
20lbs of lean ground beef
24lbs of pork (tenderloin/roast)
24 cups of cheese
24 cloves of garlic (minimum, because we all love a little extra garlic!)
When we started adding up everything we needed I began panicking at what we were going to have to spend, 60lbs of chicken?! It ended up working out pretty amazing though.
For all the ingredients needed, everything listed, plus probably close to 100 other items from soup stock to canned tomatoes to green peppers, we spent a grand total of $461.09
$461.09 total=
$153.70/per person or…
$15.37/ recipe or…
$7.68/meal (4-6ppl) or…
$1.53/serving (5 person average)
$1.53/serving for fresh veggies, lean meat and no "cooking"!
Planning was key in saving money.
We planned for about a month. Decided on the recipes and shopped the sales for the 3-4 weeks leading up to it. Just as I would for any normal meal plan. Costco came though for items we needed a lot of (tomato paste, chicken broth for example) but wasn't great for meat prices per kg price. We ended up buying the chicken and beef from a local butcher and it was a beautiful product. He sold it to us for his sale price given the volume of the order. We got the chicken for $3.77/lb and lean ground beef for $2.49/lb. Bulk Barn was also a huge resource for all spices/herbs/powdered stocks.
It was a LONG day (8hrs of prepping the meals) but so worth it. I have 38 yummy, healthy meals in my freezer that I can throw in either my crock-pot for 6-8hrs on low or cook in my oven for 1-2 hours if I'm home.
Tuesday being my birthday, I certainly wasn't cooking, so took the opportunity to try one of the recipes. We ate the sweet and sour meatballs and they were delicious! Even with me halving the recipe, my sister, husband and I ate and were stuffed! This full recipe could easily serve 6-8 average adults (they were healthy sized portions).
It was a great experience and we're already planning our next one for the new year!
Have you ever done a Big Cook? Will you try now that I've incited you with no "cooking" and budget friendliness?
________________________________________________________________________