I'm a self-confessed money hoarder. I like watching bank accounts grow and hate watching money leave accounts even if it's for necessities. I sometimes spend too much time deciding if even the smallest of purchases are worth it and am known to neglect myself if it means saving a buck.
When I think about how much money I wasted in my younger years I cringe. I know everyone has made money mistakes and regrets, and I recently talked about how our finances have matured, but to this day I can still feel the pocketbook stings. Lessons learned.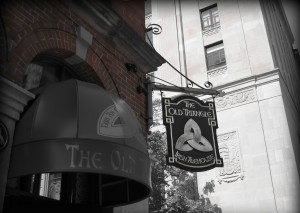 Hubby and I very quickly grew tired of the bar scene in university. I'm not much of a drinker to begin with (odd beer or glass of wine) combined with being a self-confessed homebody means I'm easy to please when it comes to entertaining. The idea of having a bunch of dumb drunk chicks who are dressed like they raided the children's section of a department store and pouring drinks all over me, no matter how much I may have had to drink is not my idea of a good time, ever. Hubby likes a social drink but we quickly realized having people over for a cheaper and safer night in somewhere was the way to go. Long story short, we never go out to bars or pubs unless it's to grab a quick bite before a hockey game sort of thing (which is a common thing even for families with kids since our city has the highest concentration of bars and pubs per capita in the country). Only Halifax would erect a giant statue of a brewmaster and celebrate his birthday every year like a national holiday.
Hubby's birthday was last week but we had delayed celebrations. Our friends decided we should change things up and (gasp) actually go out to celebrate, I agreed. It was time I broke out of my yoga pants weekend attire and let loose a little. It had been years since a bunch of us planned a night out, years. I knew it wouldn't be cheap but I accepted that sometimes money needs to be spent and enjoyed.
We made reservations at a restaurant we've been wanting to try, hit up a comedy club and spent a few hours at one of the oldest pubs in the city before heading back to a hotel room for the night (at least walking everywhere saved on cabs). The hotel we stayed at was super cheap. It would have cost us at least $60 in cab fare to get home so we opted to split a room with another couple for $104 total ($52 per couple). We couldn't figure out why this particular hotel was so cheap and discovered on check-in that they're undergoing a renovation. The room was totally fine but they were starting work on the walls/floors/walls. For $100 and a bed to sleep in I don't care what's going on in the hall!
It was a great night with great friends. We had a few new experiences that I'm looking forward to trying again in the future. It was a good reminder that sometimes we need to enjoy our hard-earned money.
When was the last time you spent some cash on a good/fun experience?
Enjoy Plunged in Debt?
Subscribe to get our latest content by email.