Identity theft? It's a frightening idea, but people fall victim to identity theft every day. Identity thieves often see seniors as easy targets, so you need to be vigilant in keeping yourself protected. These seven tips can help to protect you against identity theft.
Empty Your Purse or Wallet
How many credit cards are in your purse or wallet right now? Is there a Social Security card in there? To be safe, only carry the cards that you absolutely need at any given time. Leave everything else at home in a personal safe. If you're ever robbed while you're out of the home, you'll only have to worry about cancelling one or two credit cards.   If your cards are at home consider keeping them in a personal safe.
Start Using Your New Medicare Card Right Away
If you're enrolled in Medicare, then keep an eye on the mail – you'll have a new Medicare card arriving soon. Medicare is releasing new cards that no longer contain your Social Security number – an important step forward in helping to protect you against identity theft.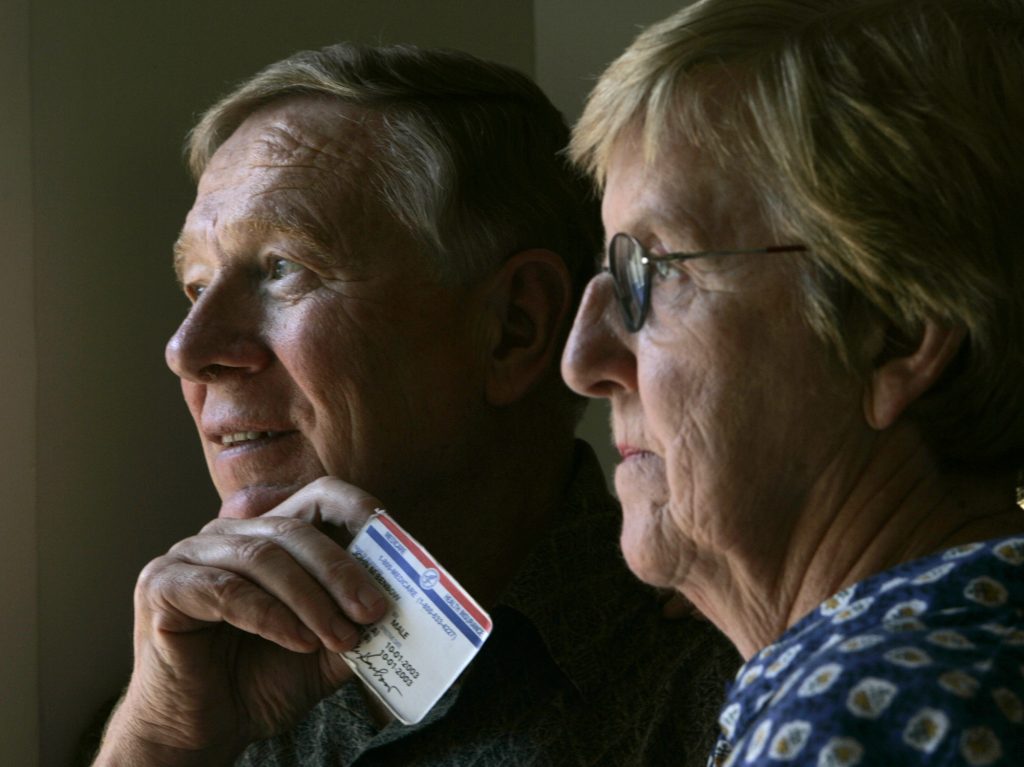 Rather than your Social Security number, your new card will feature a Medicare Beneficiary Identifier number. This number is randomly generated and assigned, and means that you will no longer need to provide your Social Security number to doctor's offices or other medical providers when using Medicare.
These new cards are being mailed out now, and all cards will be mailed by April of 2019. When you receive your new card, start using it immediately. You should cut up your old card so no one can access your Social Security Number.
Shred Your Documents
It may be a simple tip, but it's worth remembering – shred any documents containing personal information before you throw them out. This means credit card offers, voided checks, and more. To be even more safe, divide the shredded pieces up between different garbage cans so there's no chance anyone could piece them back together again.
Don't have a shredder? Keep an eye out for community events that offer free document shredding.
Set Up Your Computer Correctly
Your computer is a potential source of personal information for hackers, so it's important to set it up correctly. Make sure that you're using the most up-to-date version of your internet browser, and invest in a quality anti-virus program.
When surfing secure sites, such as when you're doing online banking or paying your bills online, never use the "save this password" feature. It's also important to create unique, challenging passwords for each site. Make them difficult for anyone to guess, and avoid using common passwords like a pet's name, a child's name, or a birthdate.
Use Social Media Privacy Settings
An identity thief could learn lots of information about you through your social media account. If you're active on social media, then take a few minutes and check your account's privacy settings. You should make your account as secure as possible, and make sure that any information you post is made available only to your friends. Only add friends whom you actually know.
Monitor Your Accounts
Keep a close eye on your credit card statements, your bank account, and your credit score. Some banks and credit cards even offer free services where they'll promptly notify you of any charges they find suspicious.
If you notice unusual charges, dispute them immediately. The faster you report a fraudulent charge, the less damage a thief has the ability to do.
Set Security Freezes
Security freezes will freeze your credit reports, meaning an identity thief can't open up a new credit account by using your name or Social Security number. If you don't plan to apply for new credit, such as when buying a new car or applying for a loan, then you can set up a security freeze to add to your safety. All three credit bureaus – Equifax, Experian, and Transunion – offer security freezes.
Identity theft can be damaging, stressful, and a long process to resolve. Use these seven tips to make it far more difficult for a thief to access the information they need to steal your identity.
Author Bio:
David Haass is the COO of Elite Insurance Partners & MedicareFAQ. He's a visionary with experience propelling innovation in the insurance field. Highly regarded for driving industry standards in client experience and cutting-edge technologies. Active contributor on the Forbes Financial Council, recognized for building brand trust and establishing strong customer relations, motivated by a genuine desire to demystify health insurance options. You can follow him on Twitter.
Image source: PBS.
Enjoy Plunged in Debt?
Subscribe to get our latest content by email.