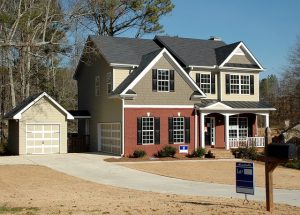 The country has been through a very difficult period. After the Great Recession, house prices plummeted and millions of homeowners across the country began to struggle with their finances. Jobs were lost, houses sold, and the debt piled on.
The average American household now has $132,158 in debt, which is a record high. So, if you're struggling to make payments, you're not alone.
But there are ways out of debt, and perhaps the quickest last resort is selling the house. Do you find yourself painted into a corner with the debt load? Here's what you need to know about using the house to get out of debt:
Remortgaging
Remortgaging is, of course, another option that could provide liquidity in hard times. One of the advantages of remortgaging is that you can consolidate all your debt under one umbrella. Use the cash to pay off other loans and credit cards, so that you can focus on the monthly mortgage payments.
You can also shop around to find the lowest interest rates. If you do your research and wait for the right time, you may be able to lower the effective interest rate you pay overall.
Quick Sales
One of the biggest advantages of selling the house outright is the complete eradication of debt. If you owe the national average of $132,158, a house will most likely cover the entire outstanding amount.
Quick Move Now property buyers will also allow you to sell fast and get the cash quickly. The cash can then be sued to pay off all outstanding loans.
Most creditors and banks will appreciate the lump sum payment and perhaps give you a better deal for it.
There could also be a number of tax incentives with selling the house that you may not have access to if you remortgage instead.
Of course, not everyone is in a position to sell the house. If you have kids at school or your family simply cannot move, selling the house may not be an option for you. However, if you are in a serious debt and emotional attachment is the only thing stopping you from selling, perhaps you should reconsider.
Another thing that might hold you back is the state of the local real estate market. If you think the real estate in your area or state is overpriced, it becomes a lot easier to sell. But if the market is in an upward trend, it may be more prudent to stick with it.
To sum up, using the house to get out of debt is a good option. But for most people, it may only help as a last resort. Try paying down the debt in other ways or looking for new sources of income before you decide to take the plunge and sell the property. If you decide to sell, seal the deal quickly and use the cash to your advantage in repayment negotiations.
Enjoy Plunged in Debt?
Subscribe to get our latest content by email.