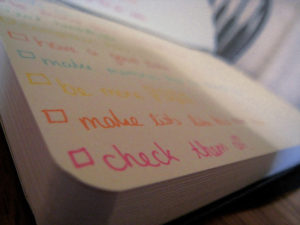 About 45 percent of Americans make a New Year's resolution each year and only 8 percent of those people are successful in achieving their resolutions during the new year. So, is it worth it? Should you make a new year's resolution?
New Year's Resolution Break Down
Obviously the 45 percent of Americans and only the 8 percent who succeed seems like a bit of a let down. However, there are a number of factors at work like age, type of resolution and how long they last with their initial goal.
How age affects New Year's Resolutions
One of the more surprising factors of whether or not you'll succeed with your new year's resolution is age. As it turns out, people in their twenties and early thirties are more likely to be successful. Thirty-nine percent of people in their twenties achieve their resolution each year while only 14 percent of people over 50 achieve their goal. Many people think this is because they are still very hopeful, goal-oriented and have plenty of room for changes to make their resolutions work.
What kind of resolution are you making? 
According to Statistic Brain, the top 10 resolutions each year are:
Lose weight
Get organized
Save more money (spend less)
Enjoy life
Staying fit/healthy
Learn something new
Quit smoking
Help others
Fall in love
Spend time with family
Almost half (47%) of people make self improvement resolutions each year. Thirty-eight percent make weight-related resolutions and 34 percent of Americans make finance-related resolutions. But, still, what are the chances of being successful with your plans? "Most people don't make it through the first month."
How long do resolutions last? 
Well, that's not entirely true. Seventy-five percent of people that make resolutions make it through the first week (small feat). Sixty-four percent of Americans who make resolutions make it through the first month (more than you thought, right?). Even more surprising a statistic is that 46 percent of Americans who make resolutions every year stick to their resolutions for six months.
That's still not 100 percent though so if you're still skeptical of setting a resolution in 2017, you're right to be so. There are ways to be successful with your goals though.
Successful New Year's Resolutions
In all reality, people who explicitly make resolutions each year are 10 times more likely to reach their goals. If you are planning to save more in 2017 (or whatever your goals may be) you'll need to explicitly say so and draw up a plan to do so.
You'll need to make a goal-setting worksheet for yourself, set deadlines and come up with a program. If you are looking to save more money in 2017 you may want to have dates where you want to have a certain amount saved ($600 by July, for example). You may also want to try out a money challenge of sorts to save more cash in the new year.
Whatever your goals or resolutions may be you won't meet them unless you set your mind to it, set deadlines and be determined.
Wishing you a Happy New Year and success in your endeavors in 2017. 
Photo: mt 23
Enjoy Plunged in Debt?
Subscribe to get our latest content by email.