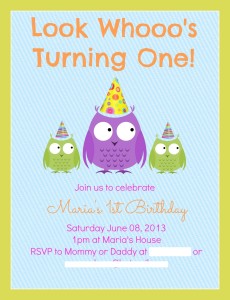 Yesterday was kiddo's first birthday. On Saturday we had a birthday party for her with all our friends and family. When it comes to hosting 20+ people it's easy to allow the costs to add up. I was a little taken aback when I started discussing my plans with other friends to find out they were spending on average of $1,000 for their little one's first birthday party, and these were the ones who were paying attention at all! Some just buy what they want when they want…
I love my child but no way would I spend $1,000 for a first birthday party. Especially when the highlight of her day is a cupcake mom made and the box her toy came in.
Decide on a Theme
When planning an event, I find having a theme sometimes makes things easier. It gives your party a focus and you're able to streamline your plans. We decided on an owl theme since the first thing kiddo really started to recognize, and get excited about, was two owl paintings on her wall. It seemed appropriate and fun!
Plan a Menu
Having a June birthday means BBQ!! This was a great money-saving opportunity too. For about $60 we bought enough food to feed over 25 people, with leftovers.
Our menu included:
Burgers
All-natural chicken hotdogs
Broccoli salad
Taco salad
Apples and caramel fruit dip
Chips and pop
Cupcake supplies
Buns, additional condiments
Even though it was a torrential downpour, hubby faced the weather for our little one's party and cooked food for us all! True love.
Limit the Decorations
I bought everything at the dollar store, a party supply haven! I spent less than $20 and got:
Table cloth

Napkins
Balloons and streamers
Paper lanterns to make owls
Ribbon
Cupcake stand
Odd craft supplies
We decided providing a meal and treats enough and didn't do a "favor" for our guests. As kiddo gets older we may look into party favors for the other children, but she was the only child present so it didn't seem like a good use of money this time.
DIY
I made her invites on PicMonkey (I'm pretty proud of how they turned out too!) and had them printed at Staples for less than $10. Honestly, we didn't even need an invite but I wanted the memory more than anything.
I also made a few of the decorations which was cheaper than buying anything pre-made.
It's easy to get carried away with planning events, especially ones for kids when emotions get involved but I want to instill the importance of forming memories with family and friends more than how much mommy and daddy spent on a party!
How do you save when planning/hosting parties?
Few reads from our friends:
Enjoy Plunged in Debt?
Subscribe to get our latest content by email.