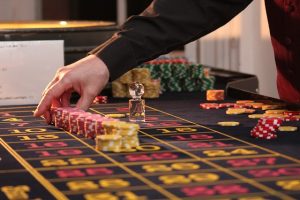 Someone wise once said that the key to life was to enjoy everything in moderation. By implication, that means avoiding taking anything to excess – whether that be drinking alcohol, exercising, reading books or gambling. As a hugely popular pastime throughout the world, gambling has its proportionate share of problems, and a small minority of players do get carried away, either in chasing their losses, or with generally unsustainable or unhealthy gambling behaviour.
It is commendable that the industry has taken such a head-on approach. Given that casinos and sports betting sites stand to benefit from irrational gambling behaviour, it is the height of corporate responsibility to promote responsible gambling, and the industry consistently engages with programmes and campaigns to flag the need for responsible gambling, as well as introducing mechanisms to ensure ordinary players don't fall into difficulties.
There are a number of mechanisms the industry uses to promote responsible gambling, and these have been proven to be effective over a number of years, both in highlighting the need for responsible gambling and in persuading players to take these issues seriously. While still a slender minority issue, it's a positive reflection on online casinos and gambling operators that they take these steps.
Promoting a Responsible Gaming Agenda
Critics of gambling suggest that it is an inherently addictive, even dangerous pastime – ignoring evidence to the contrary built up over several centuries. In reality, gambling has been enjoyed for millennia, and many of the casino games played today trace their roots to the 16th and 17th centuries. Enjoyed responsibly by millions around the world every day, it's clear that those who would do down gambling as an activity are on the wrong side of the facts.
But few gambling operators would argue that there is a risk, in some predisposed to compulsive behaviours, of taking things too far. When people eat too much food, they become fat – when people gamble too often and impulsively, they can lose a lot of money, and sometimes even run up debts as a consequence.
Of course, compulsive behaviour in and of itself doesn't guarantee losses, and some compulsive gamblers do still win money. However, in recognising the potential downsides that can affect some gamblers, casinos and sportsbooks have been incredibly pro-active in getting their message out.
Responsible gambling is all about playing for fun, but not playing into a position of financial or personal discomfort. It's about advocating that individuals take a step back from their gambling to assess their winnings and losses, and to make sure they are consciously deciding to gamble with a clear head – rather than reacting emotionally to a loss, or some other compulsion to take unmerited risks.
The industry promotes this message extensively, from betting shop windows to casino websites, and you'll find that the responsible gambling message is always included in casino marketing efforts. For example on Party Casinos Homepage you can see in the footer area all the responsible gambling logos and this is the same for all other reputable casinos. It's important that the industry highlights the need for responsible gambling, and in so doing, raises awareness of the importance of a measured approach to those keen to get involved.
Industry Fail-Safes

It's incredibly important for the industry to talk about responsible gaming, and indeed with the problems some gamblers experience in their personal lives when things get out of hand. But talk, as they say, is cheap. That's why casinos and other gambling operators go a step further, in terms of offering fail-safe mechanisms to prevent at-risk individuals from winding up in further trouble.
The most obvious example of this is self-exclusion, a mechanism every reputable casino and sportsbook offers as a means for individuals to self-select their accounts to be locked and closed. This mechanism means casinos won't accept bets from players who have self-excluded in this way, and will not open additional accounts under the same name or personal information. Again, this is in direct competition with the casino's own interests – they want as many accounts as possible, and as many players as possible. But by establishing and honouring self-exclusion policies, casinos are putting their money where their mouth is in helping promote a responsible gaming ethos.
Other Campaigns
Gambling service operators go to great lengths to raise awareness, including establishing, funding and promoting campaigns, in addition to their responsible gaming obligations. Things like Gamcare have been setup and run with the backing of the industry, as well as similar campaigns designed to raise awareness over the risks of excessive or compulsive gambling.
Responsible gaming is a key tenet of the social responsibility casinos demonstrate towards their players. While recognising that the problem only affects a small proportion of the total gambling community, the efforts undertaken by industry operators in this regard are a further sign of their positive contribution to wider society.
Enjoy Plunged in Debt?
Subscribe to get our latest content by email.