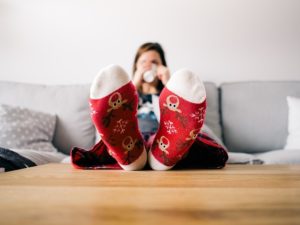 When you're maintaining the value of an investment, is good enough really good enough? One of the nine benefits of outsourcing maintenance is the ability to hire an expert for every situation. Why task a plumber with repairing your HVAC when you can get someone who has been specifically trained to do the job?
2) Happy Tenants: Although many people invest in real estate to secure their futures or generate passive income, the product you create when you run your properties competently is a happy tenant. You've heard the saying, "Happy wife, happy life?" When it comes managing your rental property portfolio, it's happy tenant, happy life. Outsourcing maintenance means things get done right the first time, which minimizes the inconveniences your renters must endure.
3) Confidence: Another benefit of outsourcing is the feeling of confidence you get when you hire a professional. You can assign them to the task and forget about it, trusting things will be done properly because the work is always guaranteed.
4) Flexibility: Superior property management companies like Onerent offer the independent landlord the option of contracting for services on an a la carte basis. This includes property maintenance, which means you can contract with them for the exact services you feel you need, while keeping your hands on the aspects of running your business with which you feel most comfortable.
5) Tenant Retention: While we're on the subject of comfort, many people are uncomfortable having strangers in their homes. If you're sending non-professionals to accomplish vital tasks and they have trouble getting them right, it undermines the confidence your tenants have in your ability to provide a comfortable environment. People who feel this way tend to avoid renewing their lease.
6) Planned Procedures: Dedicated maintenance companies usually approach routine maintenance in a methodical fashion. This means you'll get a maintenance schedule for all of the major systems requiring upkeep. You'll also get status reports, so you know what equipment is looking good and what you need to start planning to replace before it fails. This way you can budget for situations rather than being blindsided.
7) Around The Clock Service: Speaking of being blindsided, system failures tend to be somewhat oblivious to the clock. Well, that's not exactly true. More often than not, when something goes bad it's at the worst possible time, like in the middle of the night—or over a holiday weekend when you're out of town. The best residential property maintenance people tend to be equally oblivious to time, keeping someone on call 24/7/365 to deal with whatever comes up. You can't expect an elderly tenant to spend the Fourth of July weekend in a 100+ degree apartment sans A/C because your HVAC person is gone for the weekend. With a good property maintenance company, you won't have to.
8) Security: Outsourcing maintenance also means you can count on everyone to be licensed, insured and bonded. This means you can easily track their performance history with their license number. Insurance is important should property or an individual experience physical harm during a maintenance procedure. And, because maintenance people must enter tenants' apartment unsupervised on occasion, bonding ensures they have been subjected to background checks. Bonding also covers you should an unscrupulous maintenance person take an inappropriate interest in one of your tenant's belongings.
9) Peace of Mind: Among the nine benefits of outsourcing maintenance, the most significant is the peace of mind you'll enjoy with consistently competent service people caring for your property.
You may want to check these out:
Tai Lopez's Net Worth
Jimmy Tatro's Net Worth
Which stores owe you Money?
Enjoy Plunged in Debt?
Subscribe to get our latest content by email.