I received a lot of interest in Big Cooks/freezer cooking after my post few weeks ago, including people wanting recipes and info about the cookbook(s) themselves. Well you are all in luck! My little blog post didn't go unnoticed and the authors have sent me an autographed copy for me to giveaway to my awesome readers!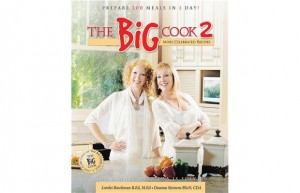 I love this cookbook, it is one of the best cookbooks I have ever used. It is informative, adaptable and very clear. There are great pictures for every recipe with loads of tips and tricks to use. We were even able to directly contact the authors when we had questions in our preparation process.
With Christmas fast approaching this cookbook would be fantastic for taking some of your cooking stress off, giving you more time to get other important things done, spend more time with friends and family or just slack off and enjoy the lack of 'cooking' you have to do! It would also make a great Christmas present!
Note that even if you don't want to make a huge batch of food there is a single recipe guideline as well.
Good luck and thanks for entering!
Note: Will ship prize anywhere worldwide. Easy Peasy!
Enjoy Plunged in Debt?
Subscribe to get our latest content by email.