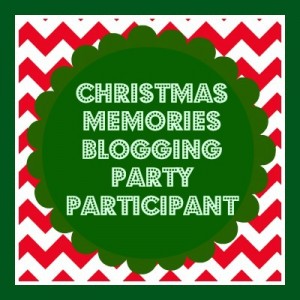 Christmas is my favorite time of year. I love the smells, sights, traditions, friends and family, I love it all. Unfortunately, most of my childhood memories of Christmas are pretty crappy. My grandfather died Christmas Eve and I grew up living in a house with a mother who had (has) 'issues'. Even in the bad times I have a few good memories mostly because my sister and I created them together.
As an adult I have amazing memories of Christmas, mostly due to my husbands family, our friends and my sister, but in light of the topic being childhood I will share the good ones with you all!
Here are a few of my favorite memories:
Christmas Movie
Choosing just one movie would be way too hard. I have a few that I have to watch every year but growing up my sister and I would always watch:
Charlie Brown's Christmas
Muppets Christmas Carol
The Christmas Story
Home Alone
Christmas Vacation
If Christmas day came and we, for some reason didn't get to watch any or all of these movies, we'd be up all night making sure we crammed all of them in.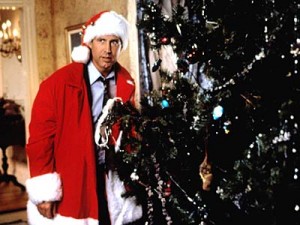 Little fact about me…I use to sing in an honor choir. We were pretty good. We were really good actually and our Christmas concerts were my favorite concert performance (We held silver at Nationals). Given my love for Christmas and music, I could make a whole post dedicated to my Christmas song selections but my favorite carol growing up (and still to this day) probably has to be Carol of the Bells.
I can't chose just one song (vs carol) so we'll chalk it up to the entire Dolly Parton/Kenny Rogers Album or Barbra Streisand Christmas album. My sister and I would play these on repeat. What can I say, I'm an old soul. It's no wonder my mom didn't throw them out especially since the Barbara Streisand one skipped during her version of Jingle Bells….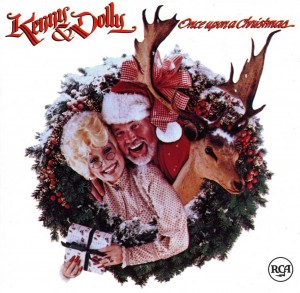 Favorite Food/Drink
Oddly enough my favorite 'Christmas drink' was chocolate milk. My mom was the mean mom who only bought treats, including chocolate milk, for special occasions. Every Christmas my sister and I would have a glass with our huge Christmas morning breakfast including delicious hashbrown casserole, another favorite we only seemed to get at Christmas.
Christmas Eve, Christmas Day, or Both?
Christmas Eve is my favorite day of the year. Even as a kid I loved it. I loved the anticipation of everything and excitement of it all. My mom, sister and I would traditionally get dressed up, see the Christmas play at our local theater and mom would cook up a delicious meal after church. My usual request was made from scratch fettuccine alfredo…YUM. Christmas morning we'd wake up and do the same thing every year. Huge breakfast. Walt Disney World Parade (on TV). Stockings. Cleanup. Presents. Dinner. We would still be opening gifts mid afternoon because we would take our time and take so long with eating and watching the parade. 
In Canada we also have Boxing Day- Dec 26th which, as a child we would spend with my father (parents divorced).
Traditions
My favorite tradition is one that I continue today. We would buy one ornament every year on vacation or special trip together to hang on the tree. Each year when we decorate the tree we would reminisce about the good times we had. My sister and I would usually fight about the positions of our favorite ornaments, rearranging when the other left the room since we both wanted ours in the center of the tree. In hindsight it was totally stupid especially given the size of the trees we would buy.
Decorating
I adore decorating for Christmas. My favorite Christmas 'thing'? The tree. I LOVE Christmas trees. We always have a real one and spend too much time picking it out. It has to be tall and fat but have a nice shape to it. My sister and I would scrutinize every tree on the lot until we found 'the one'. One year we found one that my mom insisted was way too big but we didn't care it was the one we wanted. Well the tree was much larger than even my mom thought…we ended up cutting about 24" off the tree trunk and top and had to totally re-arrange the living room because the tree was so fat once it opened up we almost couldn't walk around it. I loved that massive tree though.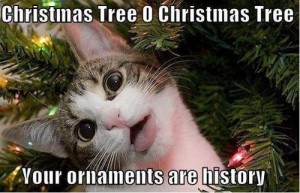 Yes, we lost a tree one year…and many ornaments because not one but 3 cats decided to climb it.
School Concert
I hated these. I sang in a choir from the age of 11-18 but hated the school ones. I think because it was always such a long night waiting for all the classes in each grade to perform. My daughter is only 5 months old and I'm already dreading them (great mom, eh?). What really comes to mind when I think about school concerts though is car theft. My parents car was broken into 3 times in my 6 years or primary school as well as many other cars, without a doubt at least 1 car was hit during the concert, sad.
Kid Parties
Every year my aunt would host a huge gingerbread building party for all the cousins. It was a load of fun. She'd make the gingerbread from scratch too…so yummy!
I have to give a HUGE Thank you to Siccora at Tackling out Debt for arranging this series. Please take some time, head to her site and read fellow bloggers posts today! It's beginning to feel like Christmas!
_________________________________________________________________
Photo Credits: Disney; Clark; Dolly Parton/Kenny Rogers Album; Cat
Enjoy Plunged in Debt?
Subscribe to get our latest content by email.