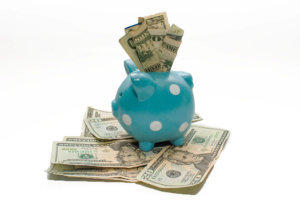 According to the Pew Charitable Trusts, income volatility can play a major role in many Americans' financial security. Whether you're getting married and anticipating a change in household income, or you're venturing out on your own and starting a new business, there are a number of reasons why you might have wide swings in the amount of money coming in each month or year.
Set a Budget
The first step toward a more stable financial future is naturally going to be setting your budget in place. You'll want to figure out what your monthly expenses are—all essential bills like utilities, health insurance, car payments and more, and from there figure out how much you'll need. Another thing worth mentioning is, thinking of your overall budget on a month-to-month basis, and plan for the worst possible scenario. Click here for a look at how to create a budget based on your anticipated minimum income.
You'll be able to better predict what next month looks like, rather than next year—but also take into account the previous year's earnings and the ups and downs you experienced over that time frame—which can be a good indicator of future cash flow.
Live Lean if You're Starting a New Business
At least in the first year, you'll want to live as frugally as possible in case disaster strikes. At first, it can be hard to establish a sense of balance, particularly where budgeting is concerned, but expect to feel a little constrained especially as you begin to turn a profit.
Those lucky enough to have a working spouse may have the luxury of living a little more comfortably, but your household is likely to feel the squeeze during lean times, regardless. If you own your own business, consider looking into different ways to raise capital.
Pay Yourself
Okay, if you're a freelancer or a business owner, the concept of paying yourself may seem a bit silly. But treating yourself as if you were an employee may have some merits. Set up a savings account for all deposits, and from there send yourself a set amount each month, or twice a month if you want to simulate the idea of getting a regular paycheck.
The amount you decide to pay yourself should cover all of your major expenses, as well as a little cushion for incidentals. The idea here is, you give yourself a set salary and during months of greater prosperity, you'll build up savings that'll cover you later on when things feel a little less stable.
Build up an Emergency Fund
Of course, we never can plan for everything, and with wide swings in earning power, anticipating the unexpected no matter how good things feel right now can be a major help down the road. As much as possible, try to accumulate at least 3-6 months' worth of salary in savings in case of last minute ER visits, a major car repair or job loss.
Of course, you can't always plan for everything. A cash loan, like those from https://captaincash.ca/loans/ontario/toronto/ is a good backup plan for those little things that come up at the most inopportune moments. And while you shouldn't rely on personal loans every time things get hard, they may come in handy when life empties out your checking account.
Set Up Different Bank Accounts
In addition to your very important emergency savings fund, you'll want to open up a personal checking account (okay, you probably already have this), as well as a business checking account which you'll use to pay yourself and pay for all business-related expenses, and a priority checking account to be used for saving up for taxes, a down payment on a home or another significant expense best kept separate from day to day purchases. Taxes, in particular, may be a big expense that can hit hard if you don't budget accordingly.
In general, it's easier to deal with a sudden influx of cash than to find yourself suddenly out of funds. The main thing to keep in mind as someone with a fluctuating income is that you need to be prepared for anything that comes your way—it's the tradeoff you get for choosing a less predictable career path.
While adding additional steps like multiple savings accounts or planning a rather bare bones budget may feel like you're placing some roadblocks between you and your hard-earned cash, it's all for your own good.
Patrick Herbert is a motivator who writes about money and living the life you dream of. A life coach stroke personal finance consultant he shares his knowledge on mastering money so you can pursue your dreams.
More reads from Plunged in Debt:
Paribus Review
Tai Lopez's Net Worth
Jimmy Tatro's Net Worth
Enjoy Plunged in Debt?
Subscribe to get our latest content by email.