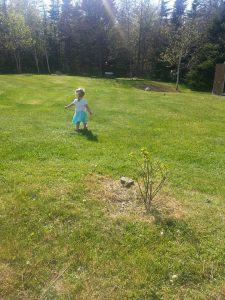 Oh May. I feel like I've been saying this a lot, but I'm glad you're over. The weather sucked. Though it's finally turned this past weekend, less than two weeks ago we were still having FROST warnings. Insanity.
It wasn't all bad though. I finally broke my weight loss plateau but a whopping two pounds in May! Just yesterday I walked over 20k steps! That was a total of 16km moved. Thanks kid for keeping me active. Two walks with her and a walk on my own when she went to bed! I'll take any progress 🙂
I also picked up another writing gig that I'm pretty excited about. Though I love writing and my whole freelance writing gig, but man, I could never do it full-time. I admire those that do but not for me. Erika posted on this recently and I totally agree with her!
May was expensive. Mother's day. Broken lawn mower. Extra fuel for the car I'm borrowing for two weeks while sister-in-law is gallivanting around the UK. Some expenses were foreseeable but not all. Though we were able to put a little extra towards debt I did fall short. I'm hoping we have a successful June though. Fingers Crossed!
Our target is $2068 per month and in May put $1568 towards our non-mortgage debt. $500 that I'm hoping to make up in June somehow 🙂
Our little girl turns two next week. I don't know how I have a toddler but I am enjoying watching her grow so much. She no longer tries to figure stuff out and instead really interacts with them. The vocabulary is crazy too. She has opinions and talks to me.
Parenting tip: If you ask a two-year-old what flavor ice cream she wants and her response is "purple". Don't try to fool her with pink strawberry frozen yogurt.
How was everyone's May?
Enjoy Plunged in Debt?
Subscribe to get our latest content by email.