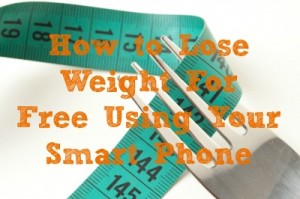 I am happy to report that as of last Friday morning I finally broke my weight loss plateau! I have tried a lot of different diets, the most success for me being Weight Watchers after my second year university after I gained over 20 pounds in two years (thank you dollar shots and cheap pizza).  I kept the weight off for a while then over a two to three year period, 15 of those 20 pounds found me again (totally my own laziness) and I sort of settled there until I got pregnant when I gained another 30. Barf.
I lost the pregnancy weight by the time kid was a year old through a combination of breastfeeding, walking and restarting WW, but I've been sort of stuck at that pre-pregnancy weight forever. I gave WW up because it was getting too expensive. I prefer WW meetings since having someone else weigh me in was a huge motivating factor. I couldn't justify paying for an exclusive online program when I knew I could do it for free.
I have no problem admitting that I love my smartphone. It is an extension of me and contains more of my life then I'd like to admit. I use it for pictures, blogging, staying connected, occasionally as a phone 😉 and currently, to lose weight. If you have never tried to use your smartphone as a weight loss buddy I highly recommend it and here's how.
Free Weight Loss Apps
Coming from a BlackBerry into the Android world near blew my mind. Apps really are amazing! My current favorite free app (and I seriously can't recommend this app enough) for weight loss is called My Fitness Pal (free at both Android and Apple app stores). In this app you track your food (a daily caloric intake given to you based in information you feed it about daily activity level, weight loss goals etc). You can totally personalize it in any way you want. FitBit users can sync MFP with FitBit as well. There is a great website to supplement the MFP app with great message boards and all the free support you would ever need. You can also use the MFP website alone if you do not have a smartphone and live an app-less life.
Instagram Inspiration
Other than my friends and family on Instagram, I follow a ton of motivation and fitness related accounts on Instagram. Nothing makes me want to kick myself into high gear than seeing someone else being successful. You have to be careful about this though since there are a ton of very unrealistic accounts to follow. Be selective and only follow real people! Though they may look great, I refuse to follow someone who has had success sustain themselves on smoothies and kale everyday.
Pinterest
I love Pinterest for many reasons one of them being to use it for fitness and dietary goals. There are literally millions of pins to help you. Home exercises, healthy recipes, motivational quotes, anything. People share their success stories and even entire food diaries about what they did to lose weight.
Camera
Have you ever found an old picture of yourself and thought "man I wish I could get back there"? Taking pictures on your weightloss journey can be hugely motivational and for that reason you should take and store progress pictures to revisit. Sometimes you think you haven't made any progress until you see an old picture.
Losing weight seems so much easier than it actually is. There are a lot of great supports out there, like Weight Watchers or a gym membership, but they all cost money. I'm on a mission to lose these 15 pounds without spending a penny!
Anyone else use free apps to meet goals?
Save More Money in 2018
Subscribe and join the worldwide 52-week money challenge! Get the tools you need right to your inbox.