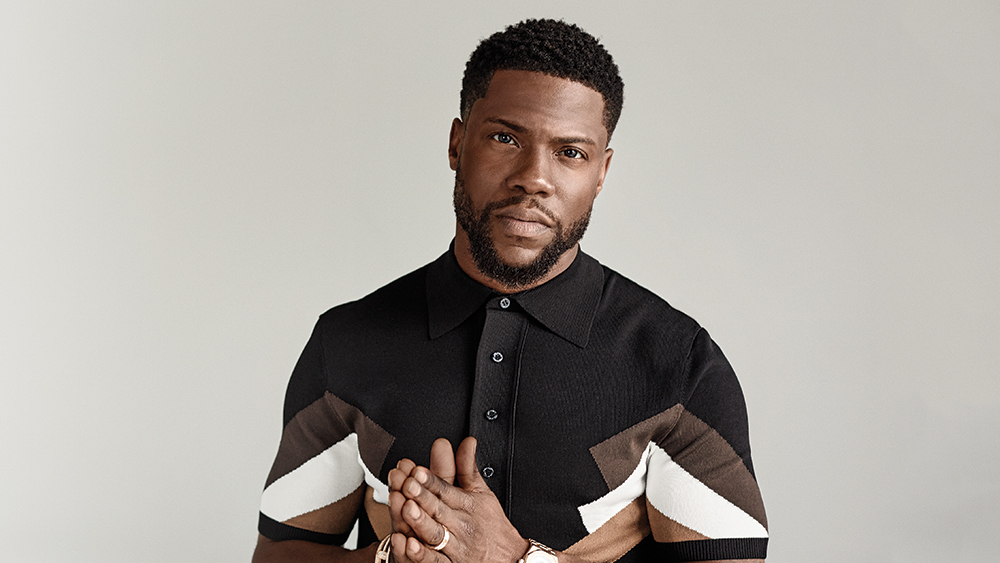 Despite his short stature, Kevin Hart has had a huge career. From standup to acting to producing, he has done it all. What has all of this success done for Kevin Hart's net worth?
About Kevin Hart
Hart was born in Philadelphia in July 1979. He grew up in a semi-broken home where his father was addicted to cocaine and was in-and-out of jail throughout Hart's childhood. This led him to use comedy as a way to cope with his life at home.
He graduated from George Washington High School and briefly attended community college before moving to New York City. His stay in NYC was short, however, and he soon moved to Brockton, Massachusetts. In Brockton, he found a job selling shoes.
The comedian's first gig was at The Laff House in Philly. He made his debut under the name Lil Kev. This first appearance was a bust and he was actually booed off stage multiple times. He decided to try out the comedy scene in Massachusetts, where he fared better.
Hart didn't take to the stage immediately. It took time for him to develop a style. He attempted to imitate idols of his, like Chris Tucker but found speaking about his own life experiences served him better in the spotlight.
He began touring in 2009 with his act I'm a Grown Little Man. In the following years, he continued touring with Seriously Funny (2010), Laugh at My Pain (2011), and Let Me Explain (2013). His 2011 act grossed over $15 million, making it one of the year's top-selling comedy tours. Then, in 2015, he embarked on yet another tour with his act What Now?
Hart's Film and Television Career
Although his standup career really took off, Hart hasn't made the bulk of his money on stage. He made his film debut in Paper Soldiers. After that, he was able to gain further recognition through larger roles in popular films such as Get Hard, Scary Movie, This is the End, Ride Along, Soul Plane, Little Fockers, The 40-Year-Old Virgin, Think Like a Man, and Death at a Funeral. And, more recently, he appeared in the 2018 Jumanji remake.
Hart co-created the television show Real Husbands of Hollywood with Chris Spencer in 2013. Hart plays himself in the show alongside Nelly, Robin Thicke, and Nick Cannon.
In addition to his work on stage on screen, Hart has launched a game available via iTunes called Little Jumpman. He is also largely active on social media and YouTube, opening doors for additional income through those channels as well.
He has also hosted award shows such as the BET Awards. Hart has also hosted Saturday Night Live three times and also hosted the Comedy Central Roast of Justin Beiber. With all of this publicity and hard work, his wealth has to be huge, right?
Kevin Hart's Net Worth
You may be floored when you find out Kevin Hart's net worth actually sits around $120 million. Most of his earnings have stemmed from his comedy tours as well as his growing career as an actor. His median annual salary sits around $2.25 million per year.
Currently, tickets for The Irresponsible Tour (2018) range from $55 to $190+ each. Although the venue does get a cut of that, Hart is selling out most of his shows and will undoubtedly make a pretty penny from that. As mentioned previously, Hart's gross earnings from Laugh at My Pain were $15 million. So, depending on how well his newest tour goes, he could raise his net worth another couple million before the year is over.
On top of his standup career, Hart is making bank at the box office too. For his role in Think Like a Man, he was only initially paid $500,000. However, after the movie was a complete success, he got a $10 million bonus in 2013. Over the past 10 years, his films have grossed more than $1.5 billion at the box office.
After Think Like a Man, Hart's yearly earnings began to pick up significantly. In 2014, he is estimated to have earned $14 million and $28.5 million in 2015. His highest-earning year so far is 2016, where he raked in an astounding $87.5 million, making him the highest-paid comedian in the world. The second place highest-earning comedian, Jerry Seinfeld, only took in $43.5 million, which is significantly less than Hart.
In addition to his earnings on the big screen and stage, Hart is able to earn additional income through lucrative endorsements with companies like Nike, H&M, Hyundai, and Foot Locker. The Nike deal alone earned him an additional $8-$10 million. It is estimated that of the $32 million he made in 2017, 20% of stemmed from partnerships like the one he has with Nike and Tommy John.
Hart is also known to take to his social media channels to further promote brands and projects he's working with. With more than 62.4 million followers, Hart is definitely sought after in this regard as well.
Additional Earnings and Assets
Many people don't know that Kevin Hart also owns his own business on top of all his other work. The Funny Business Agency is something Hart and many other comedians have a huge hand in. It is designed to help up-and-coming comedians get booked and find their way to the spotlight. Through the agency, comedians are able to get help landing gigs. There is no data available currently about what the company earns each year.
More recently, Hart has teamed up with Booking.com. He designed a 268-square-foot tiny home that will be rented out of Elizabethton, Pa. for $175 a night. Although there's no information about what he stands to earn from the deal (outside of additional publicity), it will likely add to his overall wealth in the long-run.
Some of Hart's assets definitely contribute to his $120 million net worth. Namely, his car collection is worth a pretty penny. Hart has loved cars since he was a kid and now has the collection to prove it. He owns a Range Rover supercharger ($95,125), Mercedes Benz SLS AMG ($300,000), a Mercedes-Benz G63 ($150,000), and a custom Ford Explorer ($30,000). Hart spent two years restoring a 1967 Mustang he calls Eleanor.
He also owns a $2 million home in Tarzana, California, where he lives with his wife Eniko and their son, Enzo. Hart also has two children from a previous marriage to comedian Torrei.
Photo: Variety
Read More
Enjoy Plunged in Debt?
Subscribe to get our latest content by email.