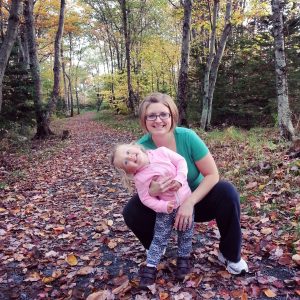 It's funny, before we had any kids I wanted a house full of them. Not that I necessarily wanted to carry and care for a bunch of kids, but as an adult I wish I had more siblings. I have a non-existent family (Mike's family MORE than makes up for my tiny family) so when we started our family I thought I'd want a bunch of kids. Then I actually had one and drastically changed my mind.
Don't get me wrong, it has nothing to do with her. She's great (though every parenting book should warn you about the experiences between the ages of 2.5-3.5, UGH). I'm surprisingly content with my life though. I enjoy my little trio immensely and for a long time couldn't even fathom adding another person to our lives. Though there would be a lot I'd miss about not having another child, I accepted that being happy as a trio was enough for me, no more babies.
I wish I could remember where I first read the stat that children with no siblings are more likely to earn a six-figure paycheque (than those with siblings), but I don't. Choosing to not have another child would provide us with many opportunities for both my husband and I, as well for her. If Maria was our only child she would have many more opportunities than if we had even one more kid and it makes me think hard about our decision to have, or not to have, more kids.
If Maria remains an only child I can see how the road would be paved that she could out herself on a path towards earning herself a six-income career. Private school, fully funded post secondary, regular international travel experiences, more extra curricular opportunities. All of these things would be building the foundation to a life full of success and aspiration (though no guarantee) and while I honestly do want the world for my child, she probably won't get all of these things. At the end of the day the relationship Mike and I have with our siblings is irreplaceable and I can't imagine not having it, or not providing that relationship for Maria.
This isn't a pregnancy announcement (Hello- debt goals!) but rather me stating I'd rather have a life rich in other non-monetary ways.  Though I want her to strive for amazing things in life, to reach a figure-pointed income for herself is not one of them.
Don't get me wrong, I want her to be the best she can be at everything she does, and if she manages to land a job that earns her a significant income, that's great! But if she doesn't have anyone to share her life with, will it be worth it? While you can have support, love and friendship with people who aren't your siblings, I have a goal as a parent to raise her- and future kid(s)- to always love and support each other. I truly believe that when nurtured properly, a good sibling relationship is irreplaceable. When you have nothing else in life you will always have your sibling and that is worth more than any amount of money to me.
(Just so you don't think I'm making this stuff up here's a link to a related article) 
Enjoy Plunged in Debt?
Subscribe to get our latest content by email.