The key to faking a cheaper gift into feeling more expensive is 100% related to the packaging the gift is presented in. If done right, you can take a $3.00 batch of cookies and make it feel like so much more than that. People will immediately recognize the thought and effort put into the packaging details which is guaranteed to leave a lasting impression. They won't even notice that you only actually gave them a few homemade cookies.
With Christmas fast approaching, I thought I would share a few great packaging ideas to help with your Christmas budget. A little effort in this area and you'll be able to save on the gift itself!
Gift Cards or Cash
Who doesn't love receiving either of these? (Unless of course you're friends with Miss LBee). Gift cards and cash are great gifts (one of my personal favorites) but most people like watching someone open their gift with anticipation and these particular things are sort of difficult to wrap in any special way. Here are a few cute gift card or cash gift-wrapping ideas:
Gift Card Snow Globe: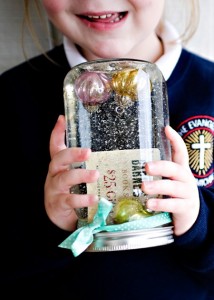 How fun is that?! The instructions to make this can be found here.
Gift Card Stockings: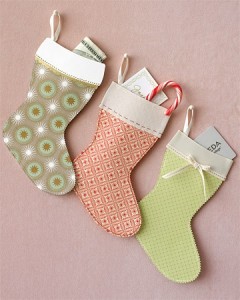 These I have made and are super fun. These ones are from Mrs. Stewart.
Book of Money:
I've never seen anything like this until today and I love it! Instructions found here.
Alcohol
Bottles of wine can make a great hostess gift or Christmas gift alike. Again, they're sort of hard to jazz up. Most people stick it in one of those very distinguishable wine gift bags and away they go. Why not take an inexpensive bottle of red (or white) and dress it up a little?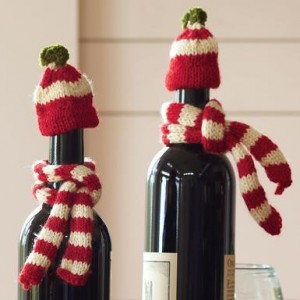 Get it? Dress it up?! I kill myself.
This idea was found here.
Got some old Christmas socks lying around? Use them to wrap your wine up!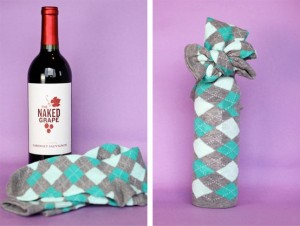 Ok, please buy new ones because that'd just be beyond cheap and disgusting.This fun idea comes from here.
Don't like wine? How about some beer? or glass bottled pop (I'm from Canada, we don't sell soda, sorry). This is a Valentine's idea but could be adapted for any holiday.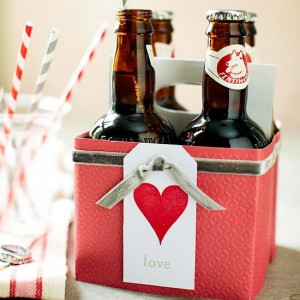 Or these super cute reindeer beer/pop bottles: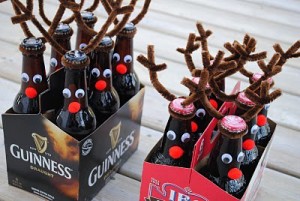 Food
Food is probably one of the most economical gifts to give, pennies worth of ingredients and you can make large batches at once for not much more.
DIY S'mores kit (from here):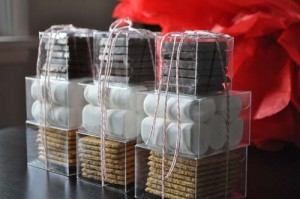 Use old Pringles containers to wrap cookies up: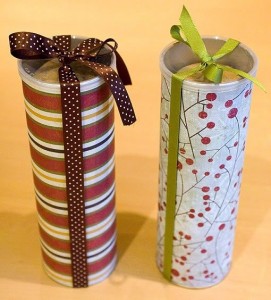 You could also do something like this, using old paper CD sleeves and stickers to wrap homemade gingerbread men:
Other Snazzy Inexpensive Gift Wrapping Ideas
Christmas whisk, super cute, found here.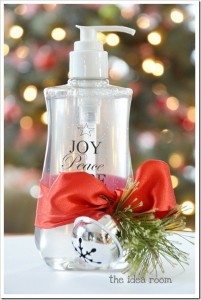 'DIY' Christmas soap wrapped up pretty, found here.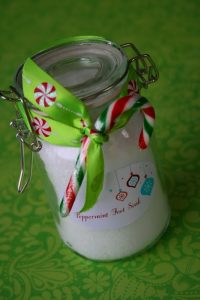 You could make a simple foot soak or bath salts, jazzing up the glass jar up.
It's amazing what a little effort in the wrapping can do for the 'value' of a gift! Hope you were inspired to put a little more effort into the packaging in hopes of saving you some cash this holiday season.
Make sure you come back Wednesday, I'm having my very first Giveaway!! (hint…it might make the insanity of Christmas a little easier! or a lovely gift!)
Enjoy Plunged in Debt?
Subscribe to get our latest content by email.