Today's post has absolutely nothing to do with personal finance but it's a great story I love telling about my wicked hubby (who's birthday is today!) and how he started blogging about a NHL team on a major network.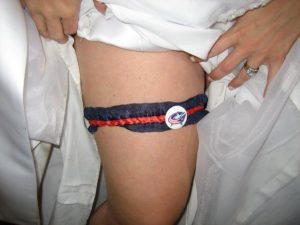 In the past, I have mentioned that my hubby is also a blogger. I get a lot of questions about his blogging anytime the subject comes up and a few of you know some details but today I will tell you how hubby landed a gig blogging about a NHL team.
Columbus OH has a NHL team. No, they're not just a college football town. They have a whole professional hockey team as well. I know this is a surprise to some. Some may have never heard of the Columbus Blue Jackets (CBJ) but yes, the rumors are true, they do exist. (Yes, this was my sarcastic intro to everyone who is thinking the Columbus Blue Jackets?!)
As most of you know, we're on the east coast of Canada- hockey is our game so why not love a Canadian hockey team (I mean surly they not as bad as Columbus!?). Hubby used to cheer for the Calgary Flames but in the late 90's they were sort of…sucking. When the 2000 NHL expansion happened, adding the Columbus Blue Jackets and the Minnesota Wild, hubby stood in his bedroom and decided to start fresh. He would flip a coin, pick a team and whichever team won the coin flip would be his team. No one could ever say he jumped on any band wagons, no one could ever argue he wasn't with the team from day one.
To say my hubby is a lover of all things CBJ related is a total understatement.
Enter the World of Blogging
Being from the east coast of Canada, it was quiet difficult for hubby to get any information about the team up here. Tiny blurbs in the local newspaper after a win/loss against a Canadian team and that was about it. He went to the internet to get his information.
He started by communicating with people in Ohio on message boards dedicated to the CBJ. He was well liked and respected and quickly became one of the moderators for the boards.
As interested as hubby was in all things CBJ, people in Ohio were equally as interested in learning more about our junior league, the Canadian hockey league which is made up of QMJHL, OHL and WHL. More specifically, they were interested in our prospects. We've produced a few good ones here in the CHL, Sidney Crosby anyone? but people in Ohio were looking for info on CBJ prospects like Jakub Voracek, a Czech player who played here in Halifax and was drafted by CBJ in 2007.
The desire for information about Canadian prospects was so great that hubby decided to start a blog about hockey, and specifically about the prospects. He's quiet passionate, and very knowledgeable about hockey prospects, skills and drafting so it was natural.
This little Blogger account was never more than a hobby for him but his good work certainly didn't go unnoticed and was followed by a few NHL professionals (scouts, media type of people) but nothing 'big' ever happened. Fast forward to 2009.
In 2008, Halifax hosted the IIHF Men's Hockey Championship. Tickets sold out for all games before the box offices even had to chance to turn their 'Open' sign over. Hubby was more than bummed we couldn't get tickets. At the time, Rick Nash, the star of CBJ would be playing for team Canada and Ken Hitchcock would be team Canada's coach, who also at the time was CBJ's coach…it was sort of heartbreaking for me to watch.
The Call
I was at work one day when hubby (then fiance) called me, something he never does so I knew it was serious business.
Hubby: You're not going to believe who just called me.

Me: Ok, Who?

Hubby: Ken Hitchcock.

Me: For real? Like the real Ken Hitchcock, NHL and Team Canada coach?

Hubby: Yup, he said he knows I'm a dedicated hockey and CBJ fan and has offered me game tickets, for the friends and family section!

Me: Are you sure it wasn't a prank?….

Hubby: Nope, I confirmed it was a Ohio number, it was the real thing, I know his voice!

Me: Holy shit that's amazing!….and how did he get your cell phone number….??

Hubby: I don't care, it was Ken Hitchcock, also, he didn't block his number so I'm saving it in my phone forever.
The buzz in Halifax during the IIHF was AMAZING (No amount of bolding, underlining or italicizing can emphasize this enough).
It was true, Ken Hitchcock himself had, in fact, left tickets for hubby at the box office for us to see games. The game I went to, we sat with Shane Doan's family.
It was shortly after this that hubby was approached by SB Nation. A massive multi-sport blogging network that covers all professional sports; NHL, MLB, you name a professional sport and SB Nation has a blog for it. They wanted my hubby to represent the Columbus Blue Jackets on their network. It didn't take much convincing.
Like any blogger, hubby does it because he genuinely loves it. It's not his full-time job or anything remotely close to it, he does it because he loves hockey and loves writing (total grammar/english geek). He has a few guys in Ohio who help him out with writing since it's a little tough to blog about a team that is over 2,000 miles away, but it's his baby.
For anyone interested in reading all about the Columbus Blue Jackets I urge you to check it out, you can find my hubby blogging over at The Cannon.
I'm super proud of him, he missed his calling in life to be a professional sports writer/scout/something. He's so darn good at what he does.
If it's any indication to how much he loves the jackets, yes, that is my leg and my 'something blue' for our wedding.
Enjoy Plunged in Debt?
Subscribe to get our latest content by email.