The following post is a contribution from MyMoneyDesign.com, a blog that is all about figuring out how to make your money work for you so that you can spend your time the way you want.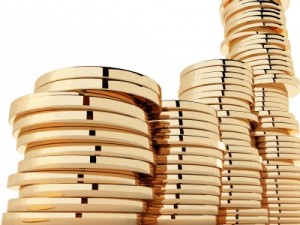 When it comes to personal finance, one of the most common frustrations I hear people express is "how can I be rich?"  When you live paycheck-to-paycheck or are swimming in debt, how are you supposed to stash any money?  Or more importantly, even if you are able to save some money, what are you supposed to do with it once you finally have it?
The first thing you need to ask yourself is what it means to actually "be rich"?  Is wealth measured by how much money you have in the bank or by the size of the paycheck you bring home?
Or does it have more to do with something else.  Can you be rich by simply handling your money just a little bit differently than you are now?
In my opinion, YES, of course you can.  Becoming rich is all about what you do with your money to make it work as hard as it can for YOU.
The Mentality of a Capitalist:
One of my favorite quotes about money comes from the book "Your Money Ratios" by Charles Farrell.  Within the Introduction, he gives the reader a great mantra to live by:
"All decisions you make should help move you from being a laborer to being a capitalist (p. 11)"
Farrell defines being a "laborer" as being someone who works for money and a "capitalist" as being someone who makes their money work for them.
Read that quote twice and let it sink in.  Which one would you rather be?
But yet we tell ourselves the same old excuses:
My job doesn't pay enough
The bills are too high
There's no way I can save for retirement
I'll start later …
When you make excuses, YOU keep yourself from being a capitalist.  Not your job.  Not your bills.  YOU.  Believe it or not, you are in control of your own decisions, and what you choose do with your money is up to you.
Becoming rich is not a question of how, it's a question of how badly you want to do it.
How Can I Be Rich Also?
If you accept that building wealth and becoming a capitalist is your choice, then you're off to a good start.  But you will need to go beyond simply restraining yourself from making needless purchases and being extremely frugal.  This means that you will need to open your eyes and start looking for things to buy that will make you more money.
Where might you ask?  How about instead of buying the latest Apple product, why not buy Apple stock?  The Apple product is certain to decrease in value and be sold on eBay in a few years for a fraction of the cost.  The stock however gives you the opportunity to own a piece of one of the top companies in the world.  So which one sounds better to you?
Sometimes being a capitalist means simply being financially educated.  For example, knowing the ins and outs between an IRA vs 401k (or RRSP for my Canadian friends) can result in you leveraging them to their maximum benefit.  Consider:
Instead of stuffing $10,000 away in your regular savings account every year for the next 30 years and collecting almost nothing in interest, why not harness the power of compound interest and grow that $300,000 into a potential $1,132,832 (assuming an 8% annual return).  That's 3.8 times more!
Instead of waiting a few years to start a Roth IRA, start one now!  Suppose you got a 10 year late start.  If you were able to reach the maximum contribution of $5,500 per year and achieve an 8% annual return, that's a difference of $623,058 (30 years) as opposed to $251,691 (20 years) if you had waited.
Instead of waiting to receive the maximum 401k matching contribution from your employer, you need to jump all over than opportunity right from the start.  Assuming your employer pays 2% on your salary of $60,000, that could potentially result in an extra $135,940 by the end of 30 years (assuming an 8% return).
And finally, being a capitalist means going above and beyond to do what others are not willing to do.   You could take advantage of any one of the passive income ideas that are out there and start making money on the side while you keep your day job and work.   This means making money from a blog, rental income, eProduct, dividend stocks, freelancing, or even your hobby.  The choice is yours how you want to do it.  Click on the link to my page and pick one that you think will work the best for you.
It Starts With You:
Each of us is entitled to rich in our own way.  There are many free tips and tools out there at our disposal.  But the push needs to come from you.  There is no one out there than cares about your money the way you do.  I can never stress this enough.
Don't wait around for someone else to tell you how or what to do.  Look for the answer, listen to the advice, and decide for yourself if what you're hearing is right for you.  You'll run into a few challenges and you'll run into a few dead ends.  But don't ever let a bump in the road stop you.  As long as you never stop asking yourself how can I be rich, then you'll always have the fuel you need to get to where you want to go!
Enjoy Plunged in Debt?
Subscribe to get our latest content by email.