After reading My Canuk Buck's post about negotiating with utility companies I commented that I once called and negotiated a $40/month savings for a year with our local cable/internet provider. I simply argued that the competitor had better rates and we were good customers. That was almost two years ago so I decided after reading this post to push my luck and try again. They wouldn't do 12 months but I was able to save $30/month for the next six months. That's $180 they don't need from me and a whole lot better than nothing!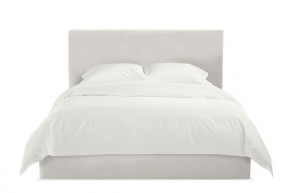 A few weeks ago, one of my posts was chosen over at Tackling Our Debt's blog for weekly reads and in her post, it is mentioned her and her husband were going bed shopping after having issues with their current bed at no cost because their bed had a 10 year warranty. Hubby and I have had some issues with our very-expensive-paid-for-by-insurance-post-flood-bed but I figured we've had it for almost three years we'd have to wait and save money for a new one. That was until I read this post. I thought, I didn't hurt to ask? I called, the mattress rep was on vacation so they asked for some e-mailed pictures instead. I got confirmation this morning that we're entitled to a brand spankin' new bed! Hubby and I went and picked it out tonight, not only is this new bed much better for us, it was on super sale! The store is going to mail us a cheque for the difference in price between the two, about $100! Extra happy, "free" money and we don't need to prop ourselves up with pillows to sleep anymore!
My super negotiations don't stop there! Long story short for all you non-Canadians, as you know we have universal healthcare so when we had our daughter in June we didn't have to pay anything for our week-long stay in the hospital. This is true unless you want a private room upgrade and amenities like wi-fi and TV. These will be billed to your private insurance (unless only these rooms are available, vs semi-private rooms, upon check-in). We requested a private room, expense or not. A month after we were home we received a $140 bill for our room upgrade, an expense I wasn't expecting since I figured we would have been told our insurance didn't cover the entire cost prior to check-out. The bill was due this month, I was getting ready to write the cheque when, during my negotiating spree, decided to call. I explained I didn't think it was fair nothing was said to us prior to check out and we were led to believe we were in the room given to us due to our situation (emergency c/sec), she looked into it, called me the next day and waved the whole amount for us! We don't have to pay a cent!
To top off my money finding week, I got to partake in a professional survey (for work, about dental products) and they're paying me $30 for about 10 minutes of my time.
Finally, I dumped all my found change in a coin counter container (anything less than 0.25) and have almost $18 in pennies, nickles and dimes! We're going to fill the container and decide what to do with it when it's full, probably something fun since I'm having fun filling it. It will take forever because I very rarely use cash.
So in total, two lovely bloggers helped me save over $420 and get a new bed 🙂 Thank you!
Have negotiations ever worked out well for you? What did you get?
Enjoy Plunged in Debt?
Subscribe to get our latest content by email.