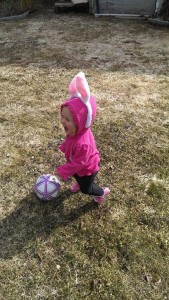 Since this is my personal blog and, I like to keep things, well, personal I will occasionally do these life update posts so people know where I'm coming from. Keep things in perspective and relevant if you will.
I have been crazy busy the last few weeks. I'm behind on e-mails, comments, writing. All of it, so I'm sorry!
Our daughter has been quite sick which has led to many sleepless nights, many more loads of puke-laden laundry and trips to the doctors. We think we have a diagnosis and things are looking up. For the last, I'd say two weeks I have been functioning on 4-5 hours of sleep per night and it's killing me. My husband does what he can but when kiddo is sick, but unfortunately (or fortunately), all she wants is Momma.
I won't be getting much rest this weekend since we're hosting 20+ people for a party. An end-of-hockey-pool-party that started as a joke and has ballooned into projection renting, trophy-making foolishness. My husband looks for any excuse to have fun and host events. It's silly but fun, and it's a potluck which means loads of food for cheapy cheap! Sunday I'm off with my sister-in-law and a few other cousins to see a play at our local theater which should be really good.
April was much improved over March for online income. I was able to meet my extra income goal between online income and a bit extra from hours earned at my job which is nice but you'll have to wait until I sit down and do the calculations for my April debt repayment update!
As some of you know (because I've been in extensive conversation with you…) I've been really on the fence about buying a FitBit. I've been thinking about them for about a year and every time I hear someone tell me how much they love theirs it makes me want one (and no, not in a "keeping up with Joneses" sort of way). I've done more research on them than I need and have decided, for now, not to spend the money. Honestly, it's not even about the money I just don't think I will use all of its functions. I really like My Fitness Pal/other free similar apps but really wanted the challenge of meeting a 10-15k step goal/calories burned so I bought a Reebok pedometer for a fraction of the price which does steps, distance, kCals, and a timer. I think this is all I will "need". Given how tired my legs have been the last few days from running around like a maniac I'm excited to see how much I really move and adjust my goals accordingly!
So that's what's going on over here, how was everyone else's April?
Enjoy Plunged in Debt?
Subscribe to get our latest content by email.