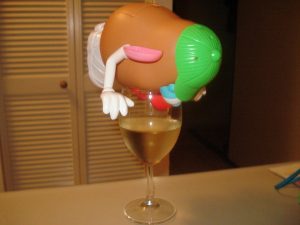 I love New Year's Eve. Our family has a huge party with more food and drinks than we need. I won't lie, we eat enough for a small army and I look forward to it every year, almost as much as Christmas. One of the things I look forward to is the (alcoholic) punch that my husband's aunt makes. I don't drink much at all but I do love a few glasses of this punch. This year will be different though, with a newborn and while breastfeeding, it will be a sober new years for me!
For a lot of people, they equate New Years with drinking. This doesn't have to be the case though. There are plenty of sober new year's ideas that are loads of fun and require no alcohol at all.
Plan a Games Night
This is actually a big part of what we do as well. There are usually a few games going on at any given time. Our family is big into games so kids to adults will bring down their new favorites that they received for Christmas and we'll enjoy trying them out. It doesn't have to be anything fancy, even a night of cards and snacks can be a fun, and sober new year's idea.
Potluck Party
Who doesn't love a good potluck? Arrange a night for your friends and family to come over, everyone bringing food. Who doesn't love an excuse to eat all night?
Get Fancy!
Though it's not my favorite thing to do, people love to dress up for new year's. There's no reason why you can't have a dressy, yet dry, party. Getting dressed up and having a nice evening of conversation and finger foods is another good sober new year's idea.
Don't Get Fancy…
Conversely, another fun sober new year's idea is to plan a fun, low-key night in. Before I was of legal drinking age especially, friends of mine would plan a PJ sleepover party and we always had fun. Food was obviously involved with movies and whatever else we felt like doing.
Have a Kids Party
I'm of the age now where a lot of what we (my peers) do, revolves around our kids. They're young and most couldn't handle staying up until midnight as it is. An obviously sober new year's idea is to have a fun and early night planned for them. A lot of kids channels (including Netflix) offer early countdowns too so they don't feel like they're missing out on anything, most of them couldn't tell time so it's one of the parenting little secrets!
New Years can be a lot of fun. As someone who doesn't really drink, I feel like there's an unnecessary pressure put on people to drink on New Year's but, quite simply, it's not for everyone (new baby or not!). It's nice to have sober new year's ideas that can accommodate well to everyone.
Do you have any good sober new year's ideas to share?
Enjoy Plunged in Debt?
Subscribe to get our latest content by email.