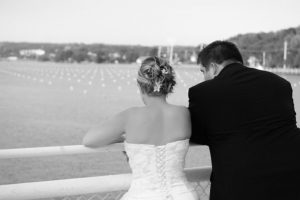 I want to thank everyone for the encouraging words on Monday's debt payoff progress post. My goal is to help with accountability in doing them every month!
Some of you may know that my husband and I have been together since we were kids, grade 12 is when we started dating, needless to say we've been through a lot together. We've grown up together and with each change in life, so did our finances.
In the Beginning
When we were kids, neither one of us had any idea what to do with money. We'd help our parents with gas money when we'd take the cars on weekends and pay for our own cell phones. Saving money for something beyond a materialistic thing (mp3 players anyone) was a foreign concept to both of us. We both had part-time jobs and made damn sure we spent every single penny we made. We didn't know any different. We certainly weren't rolling in the money but we were clearing a few hundred bucks per month. More money than a 17 year old needed, but at the time, in our eyes, there was never enough money.
Graduation and an Engagement
We stuck together through university having as much fun as we could (read: expensive weekend out). By the time I was done my second degree, my now fiancé was graduated, working full-time and waiting for me to finish school so we could get married. Even though I was only working full-time in my dental hygiene career for two months at the time of our wedding, and hadn't had any real income for the 12 months prior (school required that I quit my part-time job during my last year, only working in the summer) we managed to have a wedding which we paid for. To this day I have no idea how we managed to do this. A wedding related bill would come in and we'd pay it somehow all I know is that the day of our wedding came and it was fully paid for. A snapshot of how money slipped through our hands without us knowing exactly where it went.
This period of our financial lives was messy. We always paid our bills but our finances were disorganized. I had until this point never ever thought of doing a budget. I have never calculated our income vs. bills. We had never communicated about money. During this time frame we got a substantial tax return (over $10,000) which we used to put towards a downpayment on our house. If only I knew what I do now…To give ourselves some credit, we had planned on paying off debt with the money but a friend of ours, who happens to be a mortgage broker, convinced us then was the time to buy (ie: ifyoudontbuynoweveryhouseintheworldwillbesoldandtheinterestratewillbe66%!!!) He put the real estate fear of God into us and we bought.
Owning a house is an experience. It continues to be an experience. I really wish we were more savvy with our money going into homeownership but I'm confident we're there now. No turning back now!
Two years after our home, came baby and that's when we really grew up.
And then Comes Baby
I was off work for six weeks due to pregnancy complications before kiddo was born, and realistically I should have been off about four weeks before that point (I worked though excruciating pain for a paycheque). I knew I was about to embark on a year long mat leave and had no freakin' idea how we were going to manage. People kept telling us, "it will work out" and in our case it did for many different reasons. Hubby got a substantial and long overdue raise, we consolidated some debt at 0% and we had real honest to God money talk. For the first time in our relationship we budgeted together (talking money with him is still a favorite thing to do but it bores him which is why I started this blog!).
It may have taken being together for 12 years but my husband and I finally got serious about our budgeting and money management, finally have a debt payoff date and a life which we feel in control of.
Being with someone for this long, and during very challenge life stages, has been an adventure. It's sort of fun to see how our finances have changed as well. We've gone from free-spirited pizza eating teenagers to full grown parents who still eat pizza, but budget for it 😉
Enjoy Plunged in Debt?
Subscribe to get our latest content by email.