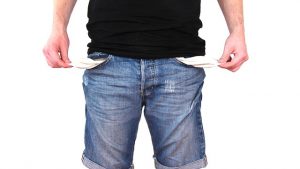 There are only a few financially related words that bring more terror than 'bankruptcy.' There is a good reason for this, too. Having to declare bankruptcy is a serious situation and it should never be the first thing you turn to when it comes to dealing with financial issues or debt.
For some people, though, declaring bankruptcy can provide them with a solution to quite major debt issues. To make it incredibly simple, you can file for bankruptcy when you find yourself in a position where you owe much more than what you can afford to pay.
This is a complicated process and not too many people find this an option that is feasible. It is also something that you should not pursue until after learning what happens when you file and exhausting all of your other options. Let's take a closer look at some of the things you should do before you decide to file for bankruptcy.
Tax Debt
If you are in a position where you owe the IRS money and you cannot pay, you might want to look into a tax debt relief program. The worst thing that you can ever do is to ignore it. You need to be in communication with the IRS so that you can get the debt resolved. You might come to find that you qualify for an IRS installment agreement that will allow for you to make payments to get the debt paid off.
Credit Counseling
Before you decide that your only option is to file for bankruptcy, you should have a counseling session with one of the many credit counseling organizations that are available. This session shouldn't take more than an hour. During that time, there will be an evaluation of your financial situation and a discussion regarding any available alternatives to filing for bankruptcy. You can have this counseling session either in person, on the phone, or online.
If you cannot pay for one of these sessions the credit counseling organization must provide it for free. If this is the case, you need to ask for a fee waiver before you have your session. If you don't ask for this before your session, you might end up having to pay for it… it is usually about $50. This can vary though depending on the kinds of services you receive, where you live, and a few other factors. After you have had your session, you need to get a certificate from the counseling organization as proof that you did indeed receive credit counseling.
Dealing with Creditors
When you get into a situation where you are falling behind with your payments on your bills, and your phone won't stop ringing with calls from debt collectors and your creditors, there is still hope. You probably really don't want to talk to them, but if you do, you might come to find that they might be willing to work out a solution with you. If you are wondering how you will ever pay off a debt, you might want to consider negotiating with the creditors or debt collectors. Debt collectors will buy your debt from your creditors for literally pennies on the dollar.
This is important because it gives the collector and you wiggle room to negotiate on the repayment of it. Your creditors might also be willing to negotiate with a lower interest rate, longer repayment terms, or something else as opposed to just having to write off your debt as a loss. It really is in their best interest to work with you.
Consider Your Actions that Might End Up with Future Payments
If you are expecting to get money, but you don't have it yet, these funds can be considered a portion of your bankruptcy estate. When you decide to file for Chapter 7, your bankruptcy trustee has the right and obligation to take these funds and use them to pay any unsecured creditors you might have. Examples of these kinds of funds can include a tax return that has been filed but not yet received, an inheritance that is to be paid in the future, or agreeing to get a bonus at work in the future. If you are expecting to get payments in the future, talk it over with your bankruptcy attorney.
Enjoy Plunged in Debt?
Subscribe to get our latest content by email.