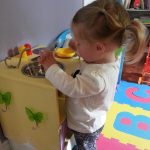 I've officially been on maternity leave for two weeks; although I think I've been busier in the last two weeks than had I been working full-time. My mommy sense is that I will go into labour early and I want to try to get as much done as possible before that happens. This includes prepping for baby as well everything Christmas related. It's been fun! We originally pulled Maria out of daycare to save on costs while I was off work. She was now stuck at home with mom, running errands and totally reliant on independent play.
I really didn't think this would be an issue. She's always been great at independent play but something has been different. She's growing tired of being home with just mommy (and soon to be baby boy) and looking for more stimulation. Thankfully she's old enough to understand that mommy isn't trying to ignore or brush her off, but that I have a lot going on physically (there will be no playground chasing like her friends would be doing) and that mommy and daddy really need to get everything prepared. We've been balancing her independent play time with some quality family and friend time too which seems to be keeping her happy. Having said this, if I'm to expect her to primarily be relying on independent play (again, nine months pregnant, busy and soon to have a newborn) I have to supply her with some supplies and preparation. Here are a few ways I've been encouraging her independent play time (with or without other toddler friends) and not spend a ton of money.
Plan Play Dates
Most all of my friends with children are working full time. I have one other friend currently on maternity leave so we will be capitalizing on our overlapping time off together to get our two toddlers together and play. They're both four and have at least three years between them and next sibling so are quite used to independent play time. My friend and I have planned cheap dates for the girls which allow them to play independently (though, together in this position) while we do what we need to do. In our current situation, I capitalize on the time usually resting a bit with kiddo being preoccupied, and my friend feeding/taking care of her new baby or just having a break from being her toddlers only entertainment.
These play dates don't have to be anything special. The beautiful thing about toddlers is that they can be pretty easy to entertain. We've done totally free independent play dates such as playground meet-ups which usually involves meeting (with coffee for momma) and letting kids run around for an hour or so together, or something like going to each other's house for the kids to make crafts or just play.
Free Community Events
Now that I'm off, I have some time to see what's going on in our community for my daughter to participate in. In the last two weeks we've already gone to the library where she had some independent play time in a different atmosphere (same toys as home for the most part but suddenly they're more fun when they're not actually yours?) and looked into free events such as introduction to flamenco dancing for toddlers. With Christmas approaching there will be quite a few things for us to do with free toddler craft classes and things like Christmas book readings. Getting out of the house will be nice.
Dollar Store
I won't lie, I love the dollar store and frequent it more than I care to admit. The dollar store is what allows me to get things done while my daughter is having independent play and craft time at home. At least once per week we head to the local dollar store to gather new craft supplies. Usually simple things like stickers, craft paper or coloring pages. For just a few dollars she has hours of independent play time. We'll spend a few minutes together each week looking up fun things to do on toddler craft websites and kiddo has tons of fun executing what she finds, she's become very competent with using scissors in the last few weeks!
It would be easy for me to pay upwards of $50 per day trying to keep my daughter entertained outside of the house but we simply can't afford to do that while I'm on maternity leave. Encouraging independent play for my daughter is what is keeping us both sane and my budget intact!
Enjoy Plunged in Debt?
Subscribe to get our latest content by email.