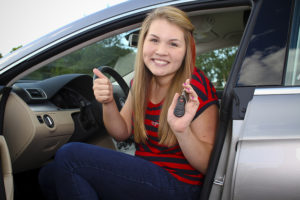 You're delighted to have passed your driving test; who wouldn't be? However, this is only the start of your career as a driver and only the start of a lifelong learning curve. The uncomfortable truth is that you'll have a lot of learning to do – one in five new drivers in the UK gets involved in a crash within a year of passing their test. One in three drivers killed in accidents is under the age of 25, even though only one in eight drivers is under 25.
If you're wondering how to drive safer sooner, then these tips will help you. Read them and pass them onto a friend who's recently passed their test – you may both be grateful!
You passed – so start another course
Extra driving courses, like Pass Plus, can give you more skills and knowledge, as well as expose you to less-than-favourable driving conditions. You'll learn how to drive at night, in heavy rain, busy traffic, motorways and congested city centres. Not only can a course like this equip you for real driving, it could lower your insurance premiums.
Become familiar with your car
Don't just get in and drive your car; spend some time in it, fiddling with the buttons, looking at the dashboard lights, finding the hazard button… If you build up a "body memory" of these controls, you'll find it easier to use them in a big hurry.
Become a boy (or girl) racer for the day…
…by going on a racetrack day. You'll be in a safe environment and you'll get to find you how your car handles at high speeds, which is nothing like an F1 car! Going on a track day means you can satisfy your need for speed without needing motoringoffencelawyers.com because you've been pulled over.
Make sure that the boy-racing tendencies aren't transferred onto normal roads. Drivers who reach 6 points within two years of passing their test have their licences revoked which means having to do the dreaded test again.
Always check your blind spot
Your mirrors are useful, but they can't show you what's just outside your peripheral vision. Your blind spot is big enough for a bike or another car, so ignore it at your peril. Check it every time you change your lane or make a turning.
Always look out for other drivers' blind spots
Not all drivers are smart like you and they don't check their blind spots when changing lanes or turning. Assume they haven't and stay where they can see you in their mirrors.
Drive in the left lane
Not many people know this, but the left lane of the motorway is for regular driving and all the others are for overtaking. Highway Code 238 states this clearly and the police now have new powers to impose spot fines on middle lane hogs.
Try driving in bad weather
OK, you won't like it, but you will encounter sleet, driving rain or ice at some point, so be proactive and meet it on your own terms. You'll feel a wet road surface and adjust your driving style to cope with it. Bring an experienced driver along with you if necessary, until you feel confident to try it out on your own.
Put that phone down!
It's illegal, and for good reason. You can't talk or text on the phone and drive safely at the same time. You just can't. Even hands-free is a bit dicey as it takes up a lot of mental space. Just don't do it.
Save More Money in 2018
Subscribe and join the worldwide 52-week money challenge! Get the tools you need right to your inbox.