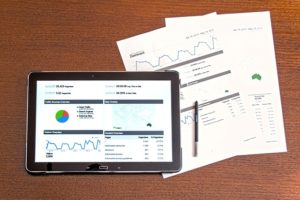 In forex trading, reading multiple charts are the key that unlocks current prices, history and trends. It is this up-to-date data that traders use to place orders and to put limits on their positions. They are the backbone, if you will, of technical analysis leading to the best possible FX trades. They accurately portray price action to all traders everywhere on the globe simultaneously. Through forex charts, everyone is on the same playing field with the same data to analyze. For anyone trading on price action or technical information, charts can be considered as Step 1. By feeding in the necessary criteria, charts are a simplistic way of viewing a graphical display of how prices have behaved for a certain period of time. With this clear picture, traders can find a suitable position to enter the market.
Forex Line Charts
The most basic type of FX chart is the line chart. This chart consists of a series of dots that are connected to one another with a line. The lines begin on one closing price and connect to the next closing price. When these charts are strung together, it's possible to see how a currency pair moves over the course of a given time period. While there are more advanced ways to use line charts in evaluating price action, most traders do not use line charts due to their simplicity.
Forex Bar Charts
Compared to line charts, bar charts are more complex and can supply a more intricate picture. They not only show the prices for opening and closing, but also the highs and the lows. When viewing the lower end of the vertical bar, you can see what the lowest price that currency pair was traded for during a specific time period. The top section of the bar is where you can see the highest price that was paid. While looking at the vertical bar, you can determine the general range of the currency pair's trading history. Bar charts are also referred to as "OHLC" charts, because they provide the Open, High, Low and Close for that currency during that time period.
Forex Candlestick Charts
Tokyo rice traders in the 1700s began plotting prices on pieces of paper, so they could get an overview of profits during a fixed period of time. From these plots, they found patterns that lead to a higher profitability. This is an early example of candlestick charting. They show the same information regarding pricing as the bar chart, but in a more graphic format that is easier to see, making them ideal for beginning traders. Using a vertical line, candlestick charts indicate the range from high to low. However, the body of the block, or the larger area in the middle, shows the range that is in between the opening prices and the closing prices. Usually if that middle block is colored in, the currency pair closed at a lower rate than when it opened. Candlestick charts can be a valuable piece of any price action strategy.
Enjoy Plunged in Debt?
Subscribe to get our latest content by email.