This is a guest post from the infamous (and very mysterious) Mr. CBB. He is one of the nicest and most helpful bloggers out there. I can't thank him enough for everything he's done for me and this little 'ol blog of mine.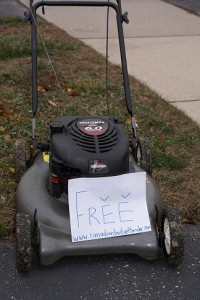 One way to get free stuff is what I like to call "curb watching" and I've scored some great items that have saved us money in our budget. Have you ever been in your car driving and randomly see items placed at the edge of the road with a "Free" sign? Well, homeowners are telling you it's ok to take this item home if you want it.  Some Canadian cities may have a by-law so you should always proceed with caution if it doesn't say free. When you do see the lucky words "free" and you need it, get it while you can, free is free and these items can save you hundreds if not thousands of dollars. They don't normally last long as people snatch up these items in an instant.
I don't go out looking in my vehicle as that would be wasting gas to me although there is a bloke who travels our area in his truck once a week to gather what he can. I suppose if you are picking up electronics and antiques or items you can potentially sell it's a big business and worth the time and gas money for some. It's no different than storage wars it's just you don't have to pay for it. This is also a great way to save items from going to the dump whilst helping the environment.
You may also find after a homeowner has a garage sale that they may put what doesn't sell "free" on the curb or on recycle day is another great time. Some home designers or even home stagers find free or cheap furniture at vintage shops, reuse/recycle shops and you guessed free online or the curbside. They may use what they can find to repurpose for a design project they are working on. What better way can you think of especially if they can get it for nothing out of pocket. We also tend to see computer monitors, base machines (computers), printers etc on the side of the road. Sometimes refurbishing items like computers if you are tech savvy and donating them to people in need for education purposes will help them in many ways they would have never dreamed possible. Books, clothes, paper, pencils, pens etc can be donated to churches, family groups, overseas, babysitting clubs etc rather than tossed in the garbage.
We also have friends who participate in their city-wide household recycle day program. We like to get rid of items we no longer use or haven't used over the course of 6 months to a year. De-cluttering is not a bad idea especially if it is crowding your space. Sometimes less is more and less to clean up and keep organized. The program will give you specific times to put it on the curb with a free sign and then you sit back, relax and someone who fancies your stuff will pick it up at no cost to them or you. If you are in the mood to score some great "new to me" type deals head out to see what you can score for free.
Tips for Scoring "Free Stuff"
Always keep your eyes open when you are driving, be aware of your surroundings looking for free signs.
Go for walks on recycle day in your neighborhood or after Garage Sales.
Check online Kijiji, Craigslist, Facebook or Freecycle for free stuff.
After someone moves house they may put lots for free on the curb so watch who's moving in and out of your area.
Don't be shy to poke your head in a garbage bin in the park, camp ground, beach or scour the ground, ditches or recycle bins for beer cans or bottles all worth $$$$ If you live in a Student City watch when the students move in and out as they normally don't like to take what they brought home or buy while in school.
Your friends and family might have something they no longer need and want to donate it or get rid of it. Don't be shy to ask or say that you might be interested in it.
What have we found? This is only a few of the items….
Sears Craftsman Lawnmower that ranges in cost around $350 and all it needed was a cleaning and a new filter under $10 (waving to neighbor as I mow the lawn now with his supposed "junk mower" chuckling… ha!
Lawn Roller which would have run me around $100 to buy in perfect condition
Patio Stones to hold our rain barrel in the back yard
$16 @ Ikea  outside Garbage Can for Dog Poop in perfect condition
Lots of clothes on freecycle that I can use to get dirty in (get your minds out of the gutter, I meant gardening and working around the house)
Free Vacuum on Freecycle all it needed was a $12 filter works perfect
Canarm Fan remote and controller $35.99 @ Costco
If you see something on the curb and you are in doubt don't be afraid to get out and ask the homeowner. Most likely if it is on the curb than it is for free but just to be safe if there is no sign, I'd ask. The last thing you need is Aunt Thelma running out the house with her broom stick chasing you down the street for trying to make off with her weed eater.
What have you gotten free from the curbside, online or from friends or family?
Note from Catherine: Here in HRM (the municipality I live in), twice a year on non-garbage collecting days, we have a 'Curbside Giveaway' where residents put stuff at their curbside and people drive around picking up what they want! My sister-in-laws best friend furnished her entire first apartment this way! We also have a few regulars who drive around the neighborhood looking for people throwing out any metal containing items to recycle as scrap metal. It's a lot of work for little return but kudos to them! Thanks again Mr.CBB for being my very first guest post, it was a great one!
Author Bio: Canadian Budget Binder is a blog about a Young Canadian Couple's Journey to Debt Freedom written by Mr.CBB who moved to Canada from the UK. You can Follow Mr.CBB on Twitter and Facebook.
Enjoy Plunged in Debt?
Subscribe to get our latest content by email.