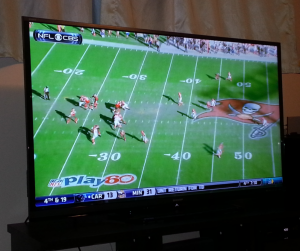 I have a financial confession. This weekend my husband went out and bought a new, over-the-top television. Did we need one? Nope. Did my husband really want one? Yup. Could we have used this money in other ways? Yup again. But we didn't. While my frugal heart strings were pulled really tight as he rang the purchase up, I didn't have much to say about the matter.
My husband, the main TV watcher in the family, has been pining for a new TV for about two years now, always (realistically) putting his desires aside so we could reach our financial goals. A few months ago when while visiting family, my husbands desire increased exponentially while playing with his grandfather's new super-duper 60'' TV (with me rolling my eyes at every praise he mentions). It took some time, but I accepted that he really wants this, probably as much as I want our debt paid off, so we needed to compromise.
Given the size of the purchase, we really needed to discuss the purchase. While we don't consult on every purchase, anything more than about $50 we at least mention to the other person regardless of its ''importance''. We have 100% combined finances and needless to say, I'd notice if he just went and dropped $1,000 on a television without talking to me. After I got over the initial stage of acceptance, we needed to come up with a plan to make us both happy.
There was no way I was going to allow our regularly budgeted funds to be used for such an unnecessary purchase, nor was my husband asking us to compromise any one thing or any goals. We wouldn't be using budgeted Christmas funds or extra debt money for this purchase which left us with one option. We'd need to earn it over and above our regular funds and additional debt payments. I say we but I mean he.
Though our funds are combined, we have to agree on all family purchases and this was, and still is in my mind, an unnecessary purchase. But guess what? There is two of us in this marriage and just because we're together doesn't mean I get to make all the decisions. I could just as easily spend $1,000 on new stuff for the house like bedding and casserole dishes, things my husband couldn't care at all about, it goes both ways. Our rule is that if we want something that we do not agree on as a couple, we have to earn it outside our regular family money or income, which he did.
My husband has been working a ton of overtime and travel, both of which he gets additional income for. Though we could have used this money for debt, we were still on track for our monthly target which keeps me happy. While I'd love to have put that money onto our debt as well it was his money and he could do what he wanted with it.
With a plan in place we were able to execute both additional debt payments (or in the case of this month, additional savings- more on that later) as well, he got his big 'ol TV. While it's ''his baby'' I'd be lying if I didn't say watching sports on it is pretty spectacular (Shhhh don't tell him I said so!).
How do you manage purchases you and your spouse don't agree on?
Enjoy Plunged in Debt?
Subscribe to get our latest content by email.