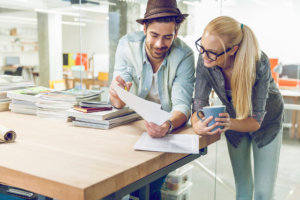 Statistics show that investing in higher education can help you to earn many more hundreds of thousands of dollars during the course of a professional career. On average, finishing a high school education can lead you to menial jobs with lower rates of pay. Looking at careers in business management reveals jobs that have bigger salaries and exponentially more free-time compared with careers that only require a high school diploma. On the other hand, you're going to have a lot more debt to repay if you earn a college degree. So, what most people need to do is figure out whether going to college is worth it when it comes to debt and higher earning capabilities.
Making College Diplomas Affordable
Going to college is about getting the best education available to you, but you can't pursue a college degree without grimacing when you think about your student loan debt. College debt in the US has become such a big issue that employers are helping to pay student loans to propel staff into getting their masters and bachelor's degrees. You can't hire from within a corporate organization unless you already have the talent. When going to school, you might want to take classes that are the least expensive so that your debt will not be as high at the time of graduation.
Your Income Earned as a Business Administrator
If you don't have a lot of job history as a business administrator, your introductory salary will be on the lower end of the spectrum. Show employers your resume that entails a decade or more of hands-on experience in business administration and you can ask for more than what is offered. Ultimately, debt, especially student loan debt and your ability to repay it will be connected to the income you earn in business administration. After you get a few raises and pay down the principal amount on your student loans, you will be able to get out of debt sooner.
Can You Work as a Business Administrator Without a College Degree?
Years ago, there were plenty of chances for new hires to land jobs as business administrators without completing their college degrees. Some could get hired while they were still working on a bachelors in management. Other new hires might have been recommended by family or friends who knew them personally. Today, you would need to have some type of college education, even if it wasn't related to business administration, to get hired as an administrator. It isn't the norm for a high school graduate to become a business administrator, especially since a young adult doesn't have very much experience in life.
In short, a college degree is necessary to become a business administrator. You don't have to graduate from a college with the highest tuition rate, but you need to find a college that has an excellent business administration program. The debt you incur during college will take years to eliminate, but remember that your college diploma will continue to help you earn a bigger salary each year.
Enjoy Plunged in Debt?
Subscribe to get our latest content by email.